8 July 2011 – A Coffs Harbour software developer whose e-learning systems are used by more than a million people worldwide is the 2011 Telstra NSW Business of the Year.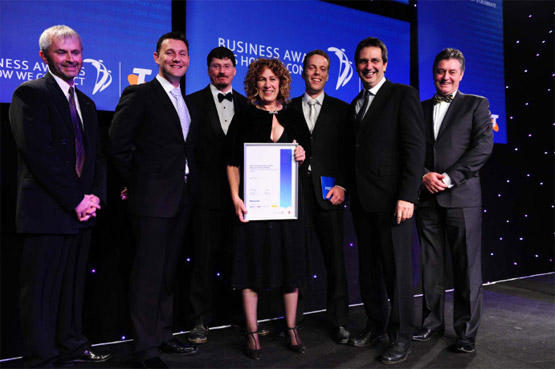 Janison, established in 1988 by Wayne and Jacquie Houlden to develop and host online learning systems, portals and assessments, took top honours at the 2011 Telstra NSW Business Awards in Sydney on Friday 8th July.
Recognising the need to support the delivery of learning to remote and regional areas, Janison built a specialised learning system used initially by TAFE colleges and registered training organisations.
Today Janison Learning System supports the e-learning needs of 100 diverse local and international clients through a hosting network stretching from Sydney and Singapore to Dallas, Beijing and Ho Chi Minh City.
It has developed remotely-synchronised learning servers for battle units in the New Zealand Defence Force, a global online leadership academy for Deloitte, an e-learning rollout for vocational and technical education in Vietnam, statewide systems for TAFE in South Australia and Queensland and a national cybersafety teacher training portal for ACMA.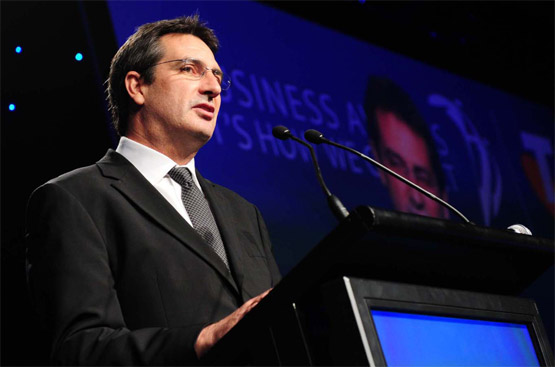 Janison, which has achieved consistent annual revenue growth of 20 per cent, also won the Panasonic Australia Medium Business Award and the Telstra Regional Business Award.
Other winners of the Telstra NSW Business Awards included West Hoxton-based Motivate You Fitness & Personal Training and two Central Coast businesses, treetop adventure park Ecoline Pty Ltd of Wyong Creek and glass recycler and producer Colmax Glass Pty Ltd of Maroota.
Telstra Business Group Managing Director and Awards Ambassador Deena Shiff said all winners were entrepreneurs and innovators running outstanding businesses whose success was an inspiration to others in the NSW small and medium sector.
Ms Shiff said Telstra was proud that the Awards program, now in its 19th year, continued to celebrate risk-takers and achievers who were creating local job opportunities and were the backbone of local communities.
Telstra Business Awards judges described Janison as "a very well balanced organisation in its product and revenue sources showing great use of technology to facilitate innovation."
They praised Janison's staff environment – from a team of 40 only five have left in 10 years.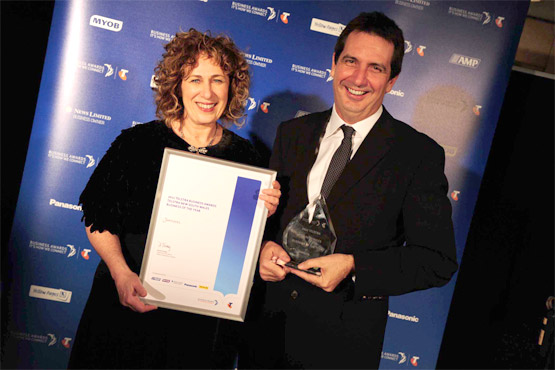 Janison CEO Wayne Houlden said: "A key lesson for us has been the value of innovation. You must be prepared to be brave and to innovate to achieve success."
Mr Steve Rust, Managing Director of Panasonic Australia, said: "Panasonic applauds the innovative spirit, customer focus and openness to new business opportunities that Janison has demonstrated.
"It has always been Panasonic's belief and action that the path to transforming great ideas into business success is inspiration, coupled with hard work and determination and Janison has certainly demonstrated this."
Related Links:
Panasonic Australia Medium Business of the Year Award video
NSW Business of the Year video
---
Contact us
Contact us for more information on Panasonic Business products:.