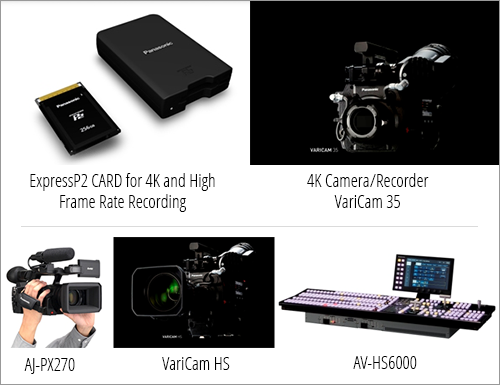 Panasonic will be unveiling a range of exciting new broadcast products at the upcoming National Association of Broadcasters (NAB) Show, which runs from April 7-10 at the Las Vegas Convention Centre.
These innovative offerings, include: 4K VariCams with 35mm MOS image sensors; a third-generation 2/3" VariCam designed to provide high-definition imagery for documentary, sports or SFX slow-motion applications; and a new generation of P2 solid-state recording media, the ExpressP2 card, specifically designed to accommodate high frame rate 1080 HDAVC-ULTRA recording (above 60fps) as well as 4K capture.
Please see the links below for the latest information. All of these products will be available in Australia later this year, and we will update you with local release times and pricing closer to the product release dates.
RELATED LINKS
Panasonic Debuts 4K Camera/Recorder, VariCam 35, With New Super 35MM MOS Sensor, AVC-ULTRA Codecs For 4K.
Panasonic Unveils Third-Generation VariCam HS with 1080P High-Speed / Variable Frame Rate AVC-ULTRA Recording To 240FPS.
Panasonic Announces expressP2 CARD for 4K and High Frame Rate Recording; New expressP2 Drive Promotes Fast Transfer Of High-Speed Footage.
Panasonic to Begin Shipping AJ-PX270, First P2 HD Handheld Camcorder With AVC-ULTRA Recording.
Panasonic Introduces AV-HS6000 2 M/E Live Switcher with Advances in Operation, Functionality and Style.
---
Contact us
Contact us for more information on Panasonic Business products:.