As a major partner of the 20th Biennale of Sydney, Panasonic provided industry-leading AV technology to three internationally acclaimed artists to bring mesmerising image detail and quality to their striking artworks. This year's festival showcased the work of 83 artists from around the world under the theme 'The future is already here – it's just not evenly distributed'. Panasonic's latest projectors, lenses and video walls were chosen for the works of acclaimed artists Korakrit Arunanondchai, Charles Lim and Apichatpong Weerasethakul. Behind the scenes, exhibition staff also used Panasonic Toughpad tablets to keep the Biennale running smoothly and safely.
Panasonic technology at the 20th Biennale of Sydney
Hear from the 20th Biennale of Sydney Artistic Director about the artists utilising Panasonic AV technology to bring their works to life, and from the exhibition staff utilising Panasonic Toughpads behind-the-scenes.
'Painting with history in a room filled with people with funny names 3'
By Korakrit Arunanondchai
Turbine Hall on Cockatoo Island
Panasonic PT-DZ16K 3-chip DLP projector
A combination of performance piece and cinematic installation, the technical aspect of this artwork featured an enormous projection onto a 16:9 screen over six metres wide, in an ambient lit room. Internationally renowned Thai artist Korakrit Arunanondchai utilised a Panasonic 3-chip DLP projector to provide captivating scale, clarity and brightness.
'Silent Clap of the Status Quo'
By Charles Lim
Carriageworks
Panasonic TH-55LFV70 video wall
Charles Lim explored the depths of the ocean using a Panasonic TH-55LFV70 video wall. Singaporean artist, professional sailor and former Olympian has said he prefers using screens for his artistic exploration, and the TH-55LFV70's stunning image quality truly brought his work to life.
'Home Movie'
By Apichatpong Weerasethakul
Carriageworks
Panasonic PT-RZ670 1-chip DLP projector
Distinctive international visual artist and cinematographer, Apichatpong Weerasethakul presented a video artwork showing a floating ball of flame in a dark space, projected onto a transparent glass pane using a Panasonic PT-RZ670 1-chip DLP projector. It's designed to be rotated 360 degrees, so the artist could project from any angle to create his work, while the projector's complex geometric adjustment capabilities made it an ideal choice for projecting onto a non-traditional surface.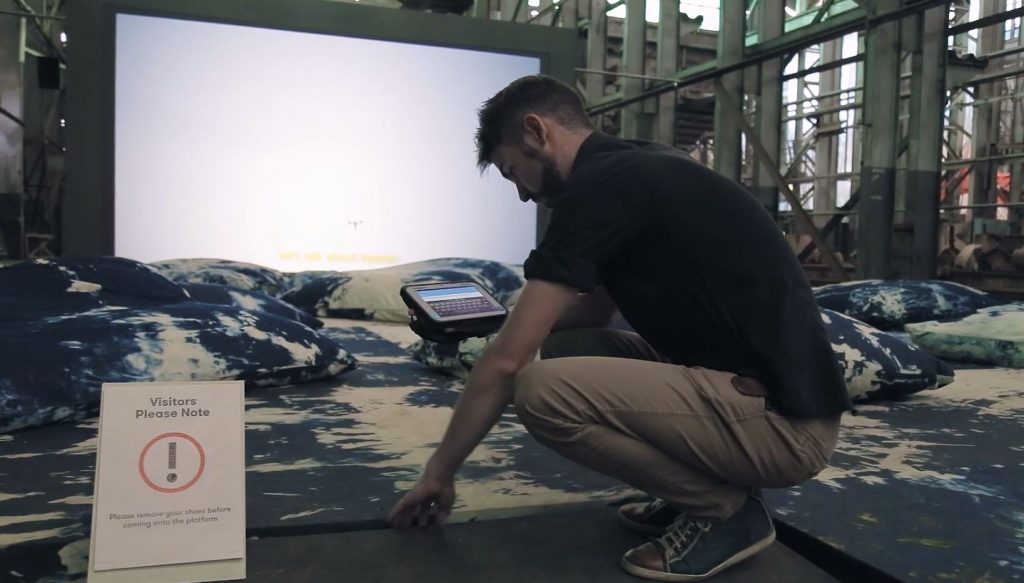 As Panasonic continues our collaboration with the Biennale of Sydney, we look to see how we can further strengthen this relationship. This year, we provided Toughpad tablet technology to help support the Biennale behind the scenes. The event crew used our tablets for a variety of specialised apps, including work, health and safety. From dusty warehouses, to cavernous installation venues, unpredictable outdoor climates and more, Panasonic rugged tablets supported the Biennale crew with reliable operation and valuable 4G connectivity.
---
Contact us
Contact us for more information on Panasonic Business products:.