The New Full HD 3D Camcorder, The AG-3DA1 Will Be Available In October And Will be affordable and Easy To Use
"It offers an easy to use, flexible system for videographers to capture immersive content on the fly – ideal for documentary and lifestyle film-making projects as well as some sports. We have already had interest locally from TV networks and documentary makers, and our reseller partners also see potential in the rental market."

Mathew Alexander, Product Manager Broadcast, Panasonic Australia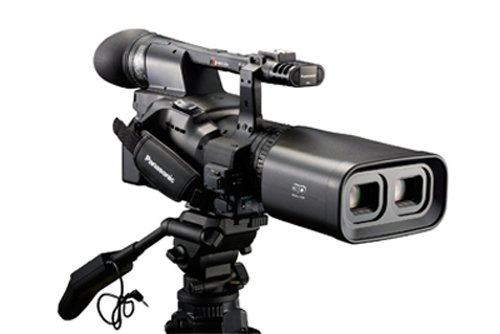 Rob Myers (Account Executive, Broadcast), introducing the AG-3DA1
Easier to Use
Current 3D systems are component based systems in which two cameras are fitted to a rig in parallel, or vertically intersect across a half-mirror. Often separate recorders are also required. In the AG-3DA1, the lenses, camera head, and a dual Memory Card recorder are integrated into a single, lightweight body. The camcorder also incorporates stereoscopic adjustment controls making it easier to use and operate.
The twin-lens system adopted in the camcorder's optical section allows the convergence point (the point at which the left and right-camera lenses' optical axes converge) to be adjusted. Functions for automatically correcting horizontal and vertical displacement are also provided. Conventional 3D camera systems require these adjustments to be made by means of a PC or an external video processor. This new camcorder, however, will automatically recalibrate without any need for external equipment, allowing immediate 3D image capture.
More Flexible
The solid-state memory file-based recording system offers greater flexibility to produce Full HD 3D videos reliably in more challenging shooting environments. The AG-3DA1 is lighter weight and smaller than current 3D rigs, while providing the flexibility of handheld-style shooting. Setup and transportation is simplified, making it ideal for some sports, documentary, filmmaking projects and live event recording (such as rock concert or product release).
Solid-State Reliability and Workflow
Right and Left Full HD video streams of the twin-lens 3D camcorder can be recorded and distributed as files on SDHC/SD Memory Cards, ensuring higher reliability than tape, optical disc, HDD or other mechanical-based recording systems. This solid-state, no-moving-parts design will help significantly reduce maintenance costs.
Users will enjoy a fast, highly-productive file-based workflow, with instant, random access to recorded content; easy plug-in to both Mac and PC-based platforms; and longer recording capacity.
More Affordable
Using a standardised, fully integrated design, the AG-3DA1 is a cost-effective alternative to traditional 3D rigs. Transportation expenses for this handheld unit will be less and faster setup times reduce labour costs. It also offers the convenience of using standard, re-recordable SDHC/SD Memory Cards available already everywhere.
Panasonic will also release the BT-3DL2550, a 25" professional-quality 3D LCD monitor for field use, and the AG-HMX100, a professional HD digital AV mixer for live 3D event production. Panasonic will offer professional production equipment to allow video professionals to efficiently create 3D content, so consumers can enjoy 3D video using Panasonic 3D home theatre systems.
AG-3DA1 Key Specifications
• Twin-lens Full HD 3D camcorder
• Power Consumption: 16 W – main unit only
• Weight: Under 3 kg – main unit only
• Recording Media: SDHC/SD Memory Card
• Pricing will be announced closer to October launch date
See Mathew Alexander, Panasonic Broadcast Product Manager discussing 3D Camcorders at a recent interview with Trapdoor Productions
---
Contact us
Contact us for more information on Panasonic Business products:.