This week we were excited to introduce six new fixed dome network cameras in our security solutions portfolio; the first models to support our new high-performance 6 Series i-PRO camera platform.
The new cameras are engineered for high performance under any lighting conditions, and capture and deliver outstanding high definition image quality, with each camera available in a 1080p/60p Full HD model or a 720p/60p HD model. What's more, they include an IP66 rated outdoor weather and vandal-resistant camera; an indoor vandal-resistant camera; and a standard indoor dome model.
Marcus Vongpraseuth, Product Marketing Manager, Security, Panasonic, said: "With the new 6 Series cameras, Panasonic again raises the bar for surveillance video quality, with the ability to produce exceptional high definition images, even in the most dynamic and challenging low light conditions."
Key Features
Next generation UniPhier® Shadow H.264 Compression Engine;
Up to 133dB Enhanced Super Dynamic Range;
Crystal clear images at ultra-fast frame rate of 60 fps;
High resolution (1920 x 1080 Full HD – SFV631L, 1280 x 960 HD – SFN611L);
Double SD Card slots for longer storage and reliability;
Built-in LEDs for low-light viewing (to Zero Lux);
High sensitivity with multi-processing noise reduction;
Ease of installation;
Weather Compensation to help improve the captured image in poor weather conditions such as smog, fog, or smoke;
Multiple H.264 (High profile) streams (max. 4 streams) to ensure simultaneous real-time monitoring and high resolution recording.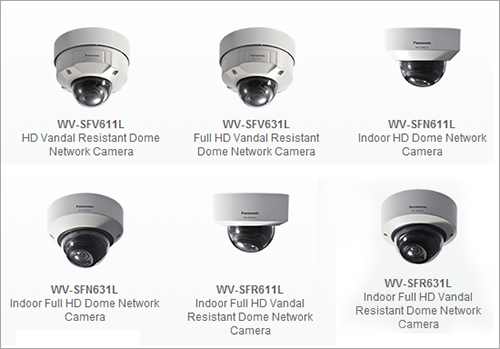 ---
Contact us
Contact us for more information on Panasonic Business products:.