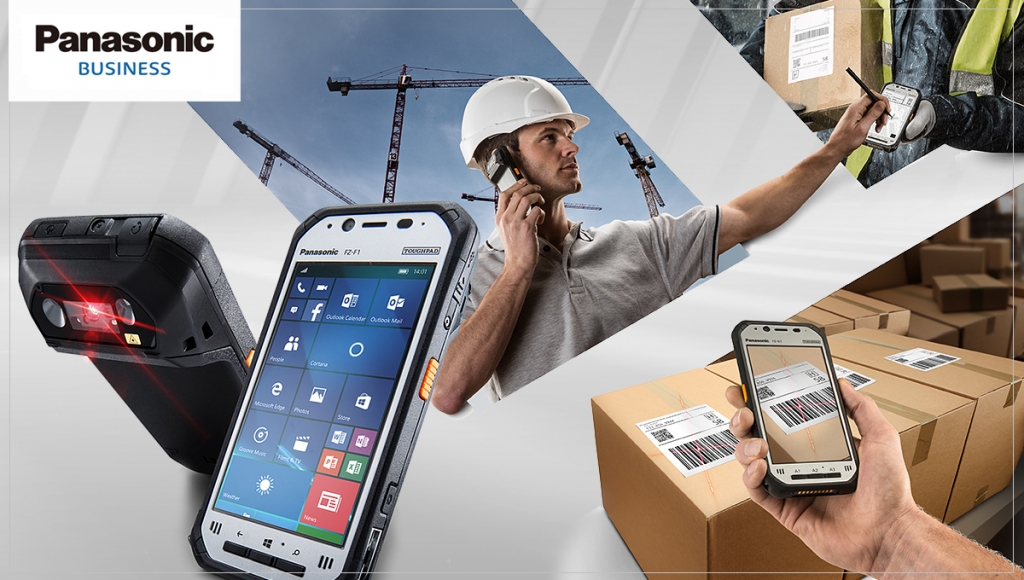 The new Toughpad FZ-F1 with Windows 10 IoT Mobile Enterprise Edition is one of the thinnest and most lightweight fully-rugged handheld tablets in the 4.7" category. It has 3-in-1 capabilities combining a mobile barcode reader, phone and tablet into one device with a long-lasting battery that provides up to eight hours of continuous use.
Well-suited for a wide variety of mobile workforces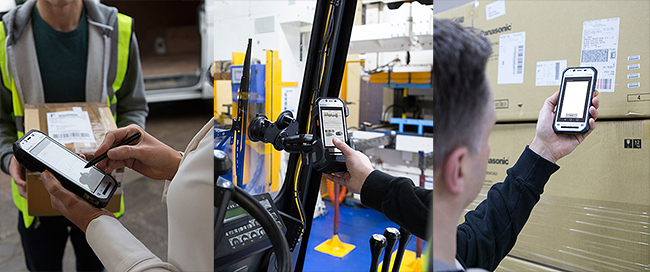 Offering full military standard ruggedisation and an ergonomic design, the Toughpad FZ-F1 is intended to support mobile workforces who are exposed to tough and high-risk work environments. It delivers true next-generation performance for users spanning mobile workers in the postal and courier services, transportation and logistics, emergency and public safety, utilities, retail, manufacturing and defence sectors.
Ruggedised design slashes costly field failure rates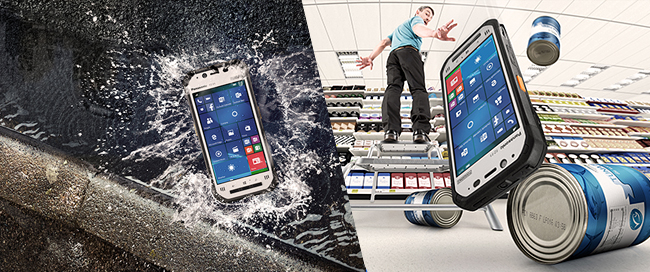 With the average handheld tablet repair costing organisations over $AUD3,850 and 6 hours*1 in lost time, many businesses are seeking out ruggedised technology to reduce IT costs and lost productivity associated with damaged devices, as well as increase efficiency and provide better service for customers*2. Thanks to its military-certified toughness, the Toughpad FZ-F1 will slash field failure rates and raise productivity in even the most demanding enterprise and government usage environments.
Angled barcode reader to reduce work-based injuries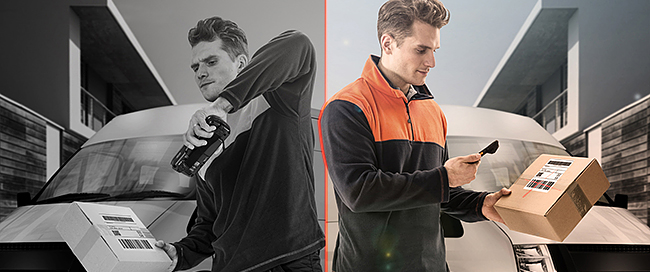 Businesses are also mindful of staff health, such as Repetitive Strain Injury. According to the Australian Bureau of Statistics, around one third of workplace injuries in Australia are sprains or strains*3. The Toughpad FZ-F1 has been specifically designed to overcome these operational and health challenges with an ergonomically designed, angled rear barcode reader that allows the user to scan items without bending at the elbow or wrist while also being able to clearly read the screen.
Full outdoor functionality provides reliable mobility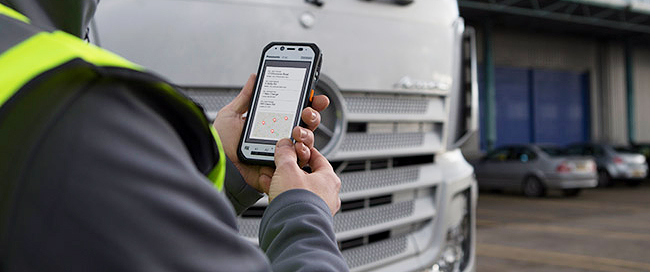 The Toughpad FZ-F1 has a daylight readable display and is built to withstand a 1.8 metre drop on concrete, and it even works with a wet screen or with gloves on. The device is fully sealed against dust and is submersible in 100cm of water for 30 minutes, meeting IP66 and IP68 certification requirements, plus it can withstand temperatures from below -10C to above +50C.
Leading enterprise-grade hardware and software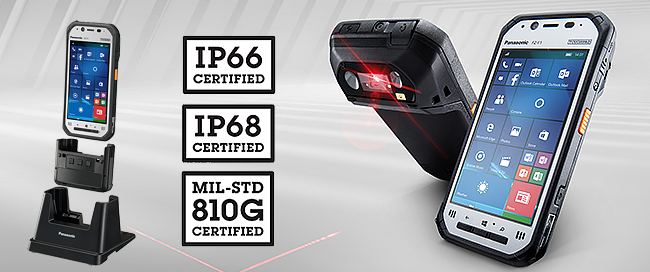 As the world's lightest fully rugged handheld tablet, this 4.7" Windows 10 IoT Mobile Enterprise device features a quad-core Qualcomm® Snapdragon™ processor, delivering industry leading performance along with a purpose-built design and rugged credentials that live up to the brand's heritage. The Panasonic FZ-F1 also gives companies the ability to develop in an open environment with thousands of enterprise grade applications at workers' fingertips.
4G phone connectivity and intelligent audio tech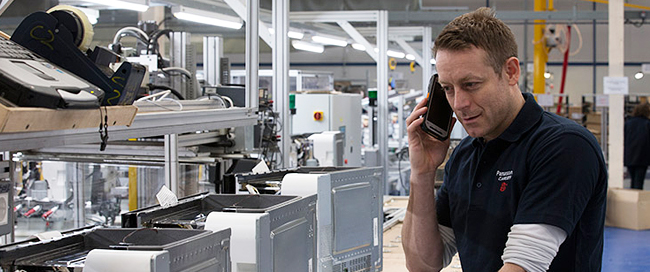 The FZ-F1 is a full multi-carrier Band 28 4G LTE phone with dual SIM card support and up to 630 hours standby time. To ensure clear voice communications above industrial noise, the device is equipped with intelligent noise suppression capabilities and dual front speakers providing an astounding maximum volume of 100 decibels
Warm-swappable battery for continuous use
The tablet can operate beyond a typical eight-hour work shift on the standard, field replaceable battery, and with an optional extended life battery it can go well beyond two full work shifts. For times when a battery change is necessary during work hours, it can be accomplished while keeping the device operational. And when more power is needed, the quick charge capability delivers extended use after a one hour charge, with a full charge averaging only two hours.
Versatile accessories and mounting solutions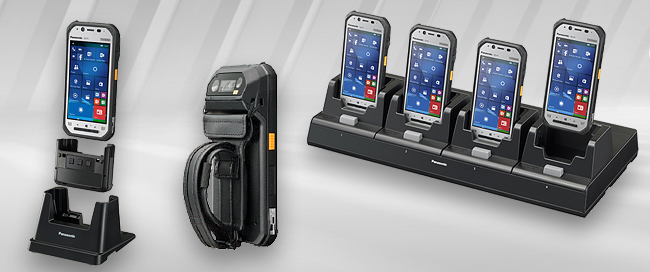 A broad selection of optional accessories will be available for the Toughpad FZ-F1, including a vehicle dock, hand strap, single and multiple device cradles, multi-battery and multi device chargers, passive and active stylus options and an extended life battery.
Application photos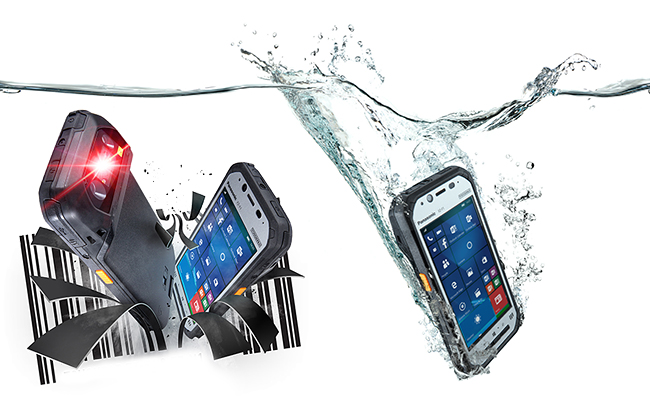 Windows 10 IoT Mobile Enterprise
Qualcomm® MSM8974AB 2.3GHz quad-core processor
2GB RAM and 16GB eMMC storage
4.7" HD (1280 x 720) daylight-readable touchscreen display with Glove & Rain mode
MIL-STD 810G certified with 1.8 metre drop resistance*
IP66/68 rated against dust and full immersion in water*
Ergonomic angled integrated 1D/2D Barcode Reader
NFC, Bluetooth 4.1, WiFi, Micro USB Port and Docking Connector
8MP Rear and 5MP Front Camera
User replaceable high capacity battery with warm swap function
10 hours continuous data use and up to 630 hours standby time
3 microphones for intelligent noise cancellation
Loud volume twin speakers (up to 100 dB)
-10°C to +50°C operating temperature

*
Panasonic Handheld Tablet
Toughpad FZ-F1 Brochure
*Tested at Panasonic factory
---
Contact us
Contact us for more information on Panasonic Business products:.