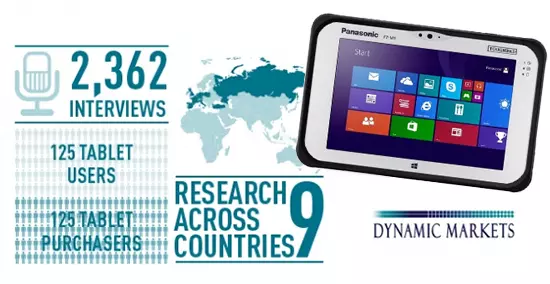 "Improving productivity" is a common goal in the business world, but achieving it can be easier said than done. As mobile technology becomes an increasingly important tool in the workplace, businesses are taking a closer look at the productivity benefits it can lend to the labor force that's increasingly taking their work out of the cubicle.
70% of employers report productivity improvements* from employees using tablets
A study recently conducted by Dynamic Markets (PDF 1.9MB)* on tablet use in business sheds light on the topic. After surveying more than 2,300 tablet purchasers and users in companies with 50+ employees, 70% of employers reported substantial productivity improvements from employees using tablets. On average, employers estimated that productivity increased by a staggering 44%. While employee sentiment didn't quite match the lofty aspirations of their employers, 40% still believed that their mobile computing technology increased their productivity by 25% on average.
*For industrial sector. View report (PDF 1.9MB) for productivity increase by industry.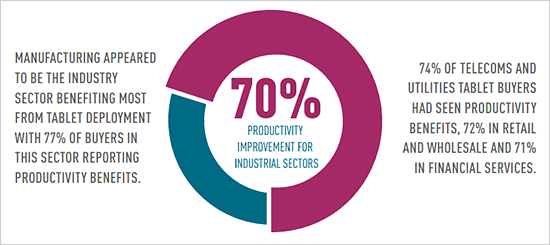 Tablet productivity goes far beyond mobile email and forms
The survey also showed that businesses are looking past typical tablet tasks like email and mobile forms when utilising their mobile technology. More and more, tablets are being used as bar code readers, connected devices that can monitor logistics operations, GIS tools, and retail solution devices. The industry sectors leading in the more specialist use of tablets in the workplace were transport, distribution, telecoms and utilities. The research also identified a trend that employees in the countries with the largest productivity increases (Italy, Spain, Russia and Turkey) were also those using tablets for the widest range of specialist uses.
Selecting an enterprise-grade tablet is critical for business-use
With the increase in productivity that tablets can provide, it's critical that businesses select the right devices for their workers. In the survey, the top complaints from tablet users were issues such as short battery life (32%), broken screens (31%), overheating (24%), battery (24%) and touch screen problems (22%). These complaints likely came from companies that tried to shoehorn consumer-oriented devices into the hands of their workers, without considering the real-world conditions their workers experienced.

Investing in the right mobile solution is the key to success
IT decision makers must assess their organisation's needs and carefully review their mobile computing options in order to select a solution that will most benefit their business. Choosing a mobile computing solution is not a decision that should be taken lightly; the technology that supports a workforce is the backbone of the company. The promise of improved productivity is enough to make anyone contemplate an investment in updated technology. As the mobile computing market continues to grow, businesses must look to more sophisticated solutions that will supply tablet users with the specifications that they need to increase work more efficiently.
RELATED LINKS
Check out the full range of Toughbooks and Toughpads.
Read the white paper "Tablet use in UK business sparks productivity revolution".
Download an Executive Summary of the research findings (PDF 1.9MB).
---
Contact us
Contact us for more information on Panasonic Business products:.