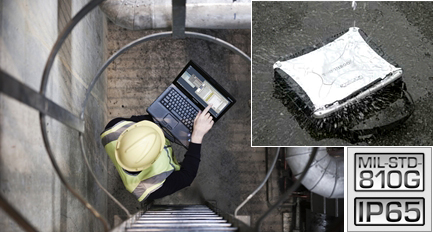 Here at Panasonic, we are justifiably proud of our rugged Toughbooks and Toughpads. Mobile computers need to be a lot tougher than stay-at-home models and every device in our range is resistant to dust, water and impact, to ensure they perform in the field.
When we talk about this toughness, we talk about IP ratings. In the rugged computing industry, the rating refers to the equipment's ability to permit solids and liquids to penetrate the computer's enclosure.
As part of MIL-STD-810F (military standard) particle resistance and liquid resistance testing, Toughbook fully-rugged and ultra-mobile-rugged computers have achieved an IP-65* rating. But what does this actually mean?
The first digit (6) of IP-65 indicates resistance to dust. This doesn't mean the computer is completely resistant to dust but any dust that does manage to enter will not have a harmful effect.
The second digit (5) is used to indicate the level of protection from liquids. In this case, it means that water sprayed on the computer from all directions will not have a harmful effect.
These ratings are of vital importance, as any computer device being used in an industrial or field environment should have an IP rating of IP-65 because exposure to dust and moisture can cause major problems to internal computer components.
When you put your trust in a Toughbook's IP-65 rating, you aren't just taking our word for it. Our ratings have been certified and approved by independent third-party laboratories, and while many manufacturers will claim a certain IP rating for one specific configuration, with a Toughbook mobile device, all available configurations are IP rated for total peace of mind
* 1 Tested by a national independent third party lab following MIL-STD-810G Method 516.6 Procedure IV for transit drop and IEC 60529 Sections 13.4, 13.6.2, 14.2.5 and 14.3 for IP65.
#

SOLIDS (1st number)
#

LIQUIDS (2nd number)

0


No protection
0


No protection
1


Protected against objects > 50mm (hands)
1


Protection against dripping water or condensation
2


Protected against objects > 12mm (fingers)
2


Protection against water spray 15 degree from
vertical
3


Protected against objects > 2.5mm
(tools/wires)
3


Protection against water spray 60 degree from
vertical
4


Protected against objects > 1mm (small tools)
4


Protection against water spray from all
directions
5


Protected against dust, limited ingress
5


Protection against low pressure jets of water
6


Totally protected against dust
6


Protected against high pressure water jets and heavy
seas
7

N/A
7


Protection against the effects of immersion (6 inches to 3.3
feet)
8

N/A
8


Protected against immersion
---
Contact us
Contact us for more information on Panasonic Business products:.