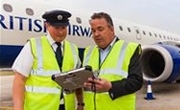 BA CityFlyer flights operating out of London City Airport have a tough new companion in the sky; Toughpad FZ-G1 tablets are now being used by British Airways engineers and flight crew to record and sign off flight and maintenance information.
The Toughpad tablets, with the latest generation Windows 8 Professional operating system, act as a Class 1 Electronic Technical Log, which does not require any hugely expensive aircraft modifications or technology infrastructure changes. The device is used to record the aircraft flight details, technical data associated with each flight and to provide the real time maintenance status of the aircraft.

According to Kevin Tristram, General Manager, UK & Ireland Toughbook Group, the BA CityFlyer team turned to the new Toughpad because of the amazing track record of performance and reliability they had experienced with previous Toughbook devices.
"The Panasonic Toughpad FZ-G1 is perfect for this new deployment because it is 50% lighter than the previous Toughbook computers but is still built to last in a testing aircraft and engineering environment. The next generation Windows 8 Professional operating system also makes inputting data so much easier. The unit is an improvement in both Health & Safety and flight deck ergonomics," Tristram said.
Click here to read the full article.
Watch the video
Read more
The Good Gear Guide was impressed with our FZ-G1 fully-rugged tablet.
Watch what happens when a FZ-G1 is frozen and dropped.
The Toughpad FZ-G1 performs like a star.
Tough new ways to do business.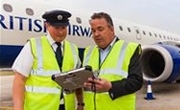 ---
Contact us
Contact us for more information on Panasonic Business products:.