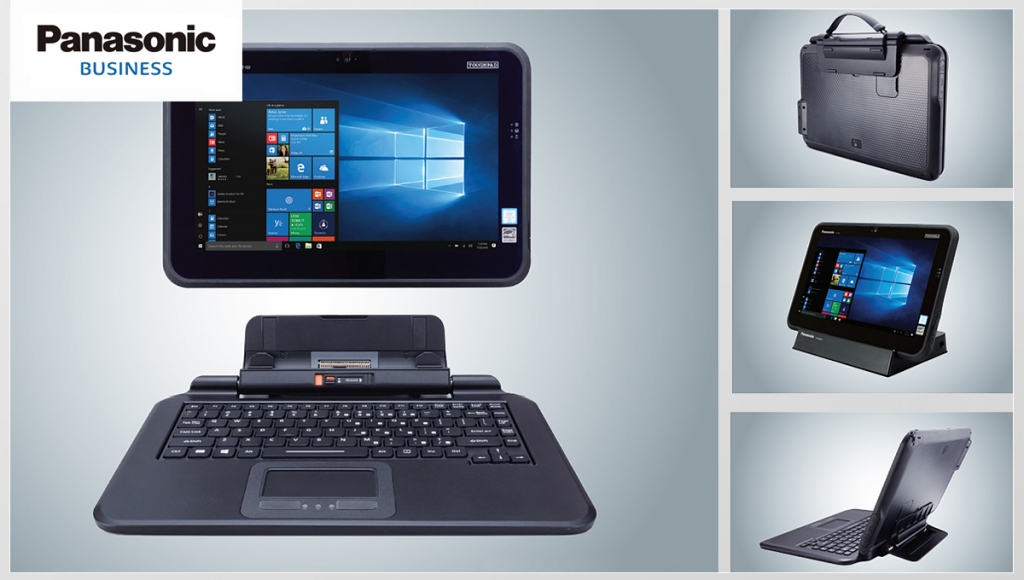 We've added to our 2-in-1 detachable tablet PC line-up with the Panasonic Toughpad FZ-Q2, a semi-rugged convertible tablet designed to offer mobile workers the very best of both worlds with tablet and notebook functionality in a lightweight but durable business device. The semi-rugged Toughpad FZ-Q2 is suitable for users who require a business ready tablet that can still withstand light outside duties.
WATCH: Panasonic Toughpad FZ-Q2
The FZ-Q2 offers a large 12.5" display for easy viewing and a wide range of business ports for use with modern and legacy business systems. With a flexible design as a standalone tablet or connected to an optional keyboard, the device is well suited to the needs of many mobile workers.
With its magnesium alloy cabinet casing, the device provides robust protection against drops (the most common cause of device failure*1) and has an optional spill-proof keyboard, yet remains lightweight and slim (max 1.93kg and 43mm thick). The tablet without keyboard weighs 1.09kg and is 22mm thick. A 9-hour battery life provides extended use across the entire working day. Optional features include a 360-degree rotating handstrap that can be added for easy working with the tablet in portrait or landscape positions, and a sleek desktop cradle with Kensington lock for security.
"We've already introduced 2-in-1 models in our fully-rugged notebook and tablet lineup – and this convenient design is now available in a semi-rugged form. Adding the Toughpad FZ-Q2 to our line-up allows organisations to maximise their investment in rugged technology without compromise.
"Our Toughbook and Toughpad lineup can meet requirements across a fleet requiring different levels of ruggedness, from technicians on the road to team leaders working both in the office and the field."
– Marc Amelung, General Manager Mobile Solutions, Panasonic Australia

The FZ-Q2 will meet the needs of users such as production line managers, fitters and mechanics in manufacturing, field service engineers and telecommunications technicians, and customer-facing sales staff in retail. The unit can also be safely sanitised with a disinfectant solution for health or food services or inspection applications.
"Our entire family of Toughbook and Toughpad products are engineered to meet the real-world demands our customers face on a daily basis, and in many of these environments consumer devices simply fall short.
"With enterprise-grade features and rugged protection, the FZ-Q2 ensures a longer product lifecycle and higher return on mobile computing investments."
– Marc Amelung, General Manager Mobile Solutions, Panasonic Australia
Toughpad FZ-Q2 Semi-Rugged 2-in-1 Tablet PC
Intel® Core™ m5-6Y57 vPro™ processor
Windows 10 Pro operating system
4G LTE multi-carrier mobile broadband
Intel® HD Graphics 515
12.5-inch high brightness Full HD (1920 x 1080) display
Anti-reflective screen treatment
Capacative 10 finger multi-touchscreen
76cm drop resistant and MIL STD810G certification*
Spillproof backlit keyboard (option)
Up to 9 hours battery life (MobileMark 2014)
True Serial Mini, LAN, USB 3.0 and HDMI Port
Balanced weight design – weighs approx. 1.93kg (1.09kg tablet + 0.84kg keyboard, including strap and kickstand).
*Carried out in Panasonic technical research lab. Test conducted in non-operating condition.
Image gallery
Click on image to enlarge.
Situational images
Toughpad FZ-Q2
Toughpad FZ-Q2 Brochure (PDF 1.2 MB)
Read more: Toughbook Case Studies, Whitepapers and more
*1 IDC White Paper – Pay Now, Save Later: The Business Case for Rugged Devices, Sponsored by Panasonic, November 2016
---
Contact us
Contact us for more information on Panasonic Business products:.