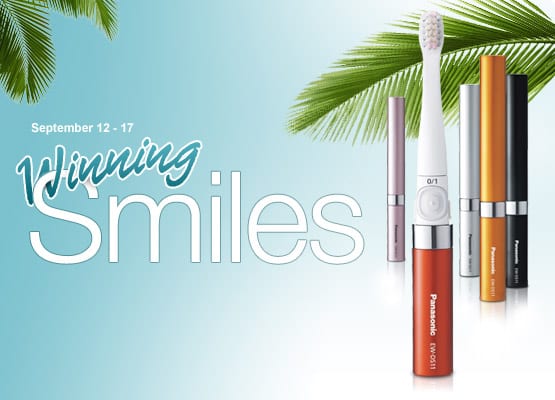 Win 1 of 300 Panasonic Compact Sonic Toothbrushes
For five days commencing Monday September 12th, Panasonic will be picking 60 lucky winners per day to receive one of the amazing, new sonic travel toothbrushes.
Daily Winner Announcements

Click here to see today's 60 winners.
The Winning Smiles promotion has now concluded.
Sonic Vibration Technology for a fresh, clean smile all day long
Effective dental care is your best protection against gum disease, plaque and tooth decay. In between regular visits to the dentist, you should be brushing your teeth with a high-quality toothbrush. That's why Panasonic have developed these new toothbrushes with ultra modern sonic technology – and in a convenient compact travel format.
This stylish Compact Sonic Toothbrush slips into your office drawer, briefcase, gym bag or handbag, so you can enjoy the confidence of fresh breath and a dazzling smile at any time.
Fashionable and compact, the EW-DS11 toothbrush can travel in style
Ultra-modern sonic technology effectively removes plaque and debris
Contoured, micro-fine bristles clean those hard-to-reach places
Each charge provides 40 min continuous operation of the EW1031 toothbrush
Click here for more information on this amazing new compact sonic toothbrush
Enter the competition on Facebook
The competition commences mid-day Monday September 12th and closes mid-day Saturday September 17th – so make sure you get into Facebook quick!
Daily winners will be posted on the Facebook page and right here on the Panasonic blog the following day.
So brush up on your creativity, answer the daily question in 25 words or less – and be in the running for one of these state-of-the-art toothbrushes. Good luck!
To see the full Terms and Conditions click here