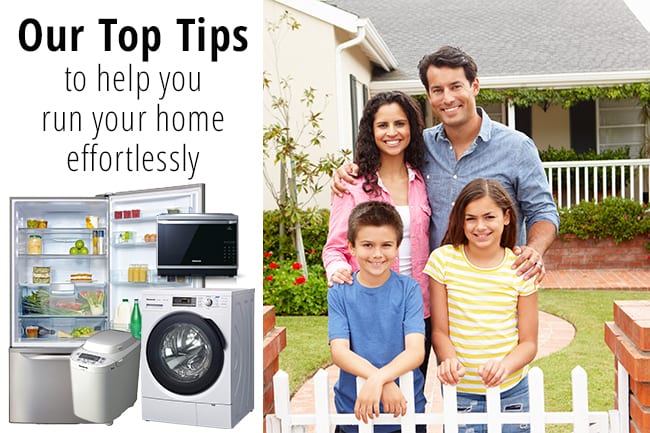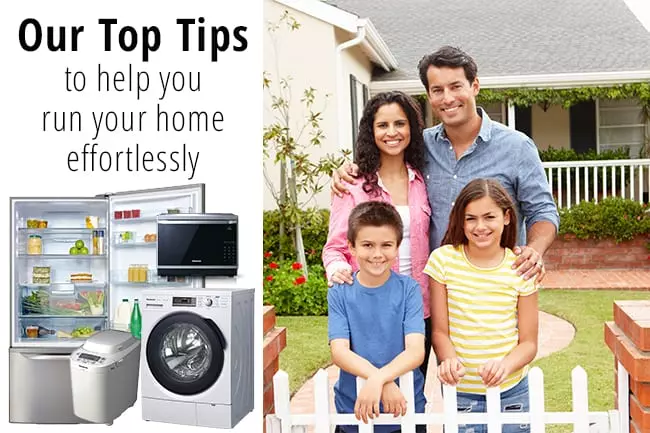 We have put together a comprehensive list (or cheat sheet) on how to spend more time with your family and less effort on household duties.
Maximising space in the laundry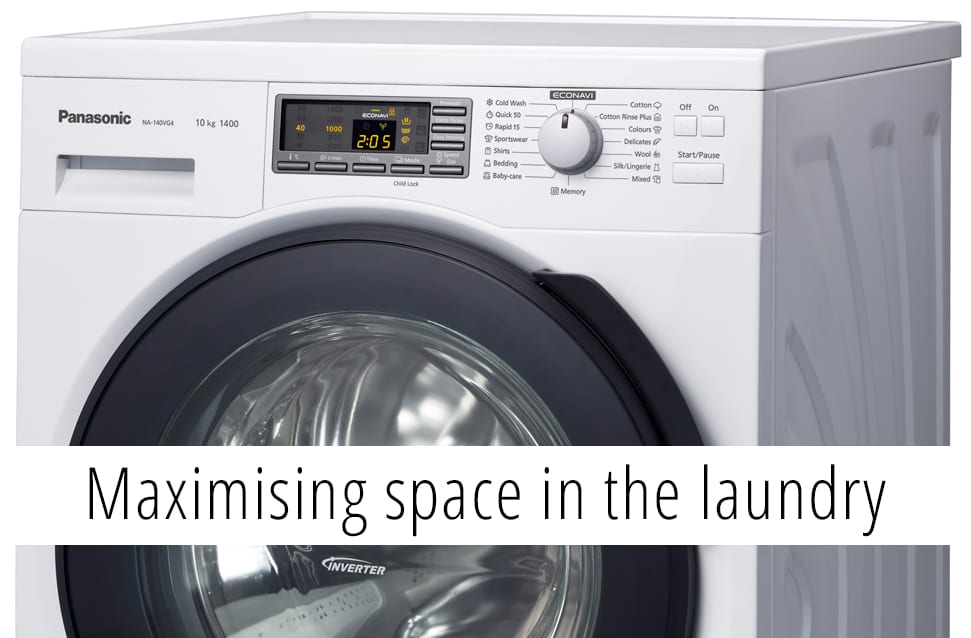 Space saving is always a tricky issue – especially with a family – and usually, the smallest areas always seem to house the most. For the laundry in particular, there's a few clever ways to maximise space. Our favourites include:
For smaller spaces, front loader washing machines mean you can stack dryers on top, or maximise the space above with shelving.
Whitegoods that couple a small footprint with a large capacity make the most of laundry space, while also saving time and money on energy bills.
For example Panasonic's 8kg and 10kg capacity washing machines both fit in exactly the same space. We developed technology that minimises the gap between the drum and the body. This achieves higher capacity in a standard body size.
Look around the room for other unused spaces. For example, place hooks on the wall and use hanging wire baskets to store laundry items. Or mount an ironing board holder to the wall to save floor space elsewhere.
Energy efficiency without compromising comfort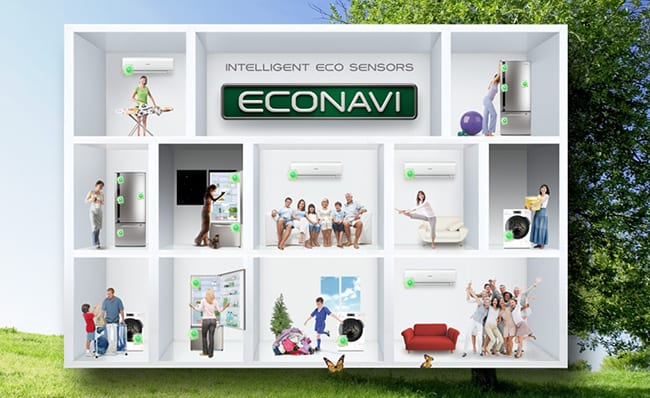 At Panasonic, we're always finding new ways to increase energy efficiency in the home through product innovation. Panasonic household products, such as washing machines, fridges and air conditioners, feature our exclusive ECONAVI technology, along with other unique features that work to reduce energy wastage and save you money.
In the laundry, ECONAVI technology means a Panasonic machine will detect the load size and adjust the water temperature, volume and spin cycle to create the perfect wash with less waste. In the kitchen, a Panasonic ECONAVI refrigerator will monitor and learn usage habits to manage energy consumption accordingly.
And just a reminder on those simple saving tips – like turning off appliances and electronics at the power point, switching off the light in unused rooms and ensuring dripping taps are fixed.
For us, energy saving results in time saving too, as it's all about incorporating functions and features that increase overall efficiency. A new product we love is our heat pump dryer, which saves you time, money and also your clothes! The unique heat pump technology results in greater energy efficiency and gentler drying, and is designed to be easier to operate (loading and unloading) and won't turn your laundry into a sauna! This means you can safely put an entire load in the dryer, without the fear of ruining a silky top or shrinking a favourite grandma-knitted jumper.
Stop wasting your life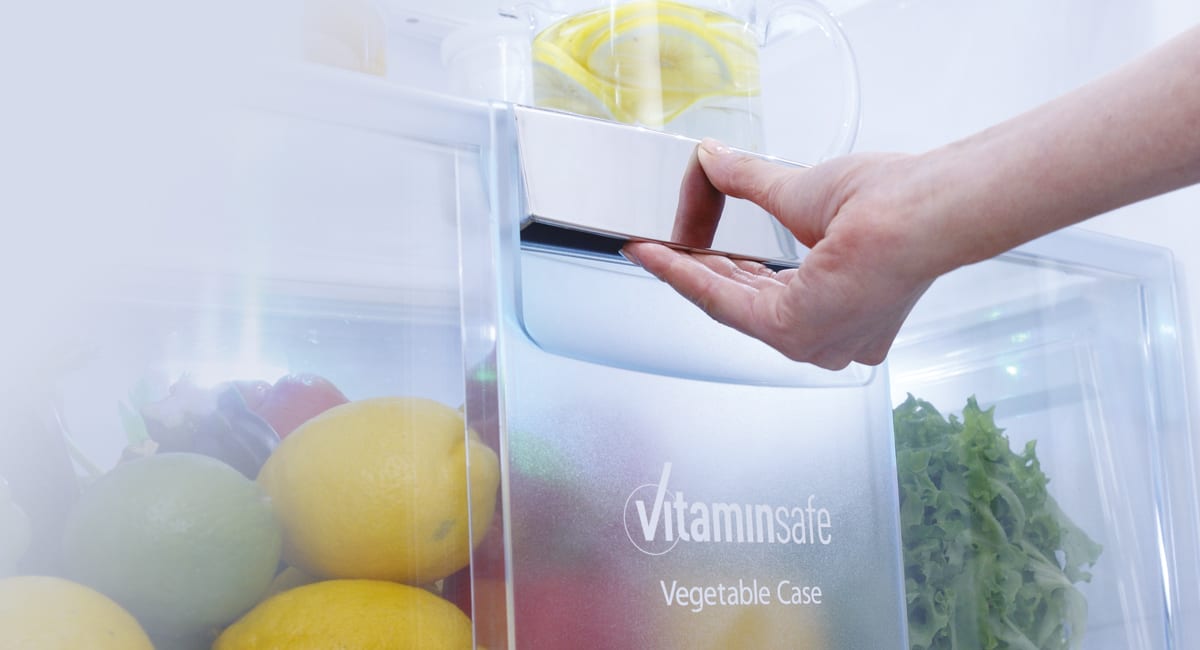 Wastage is a big issue for Aussie families. Food accounts for a large percentage of many households' weekly budgets; however Panasonic research shows Australian households throw away more than $600 to $1,000 worth of food a year!
To avoid perishables, such as fruit and veg, dairy products and bread, ending up in the bin, we recommend following these three steps:
Plan meals and buy ingredients accordingly – by planning before the week begins, you can purchase and plan meals to avoid food wastage.
Store food right – keep fruit and veg in the crispers, eggs in their cartons and dairy products on fridge shelving. It's also important to know which items should be stored in the pantry, such as potatoes.
We have developed technology to help you utilise your freezer – the freezer is a great way to reduce food wastage, not just in the home but for school lunchboxes as well!
Panasonic refrigerators also have a range of features that help keep food fresher for longer, from VITAMINSAFE technology to extra- large crisper sections; and an AG Clean silver-coated filter which cleans the air and includes a deodoriser for a fresh-smelling, healthy fridge interior.
Banish boring chores in trice
No matter how hard we work at maintaining our homes, the list of chores somehow just seems to grow. Here at Panasonic, we have developed a few clever little appliances that are versatile and real time savers around the house.
Rice cookers
Great for week night dinners.
Cook rice the way you want it, from nice and fluffy to sticky sushi rice
The rice cooker adjusts the temperature and cooking time just as if you were keeping watch
Can cook up to 20 cups, has a warming function and can also cook soup, stew, broths, cakes and porridge
Check out Panasonic's rice cookers
Bread makers
Make the bread and the spread for school lunches or easy breakfasts.
Can make all types of bread, as well as a range of jams and compotes
Specialty functions mean you can enjoy delicious spelt and gluten free loaves
13 hour timer means you can wake up to fresh bread any time you want, and the unique coating means bread never sticks or burns
Check out Panasonic's bread maker
Irons
Keep that laundry pile under control!
Innovative multi-directional design prevents creasing and makes ironing a breeze
Reduce ironing time and the energy needed, with a flawless finish
Powerful steam and functions to suit any type of clothing
Check out Panasonic's irons
Steam Combi Microwave Oven
The most versatile cook in the kitchen!
Can make fresh and healthy food very quickly
Our flagship models offer a two-level convection cooking
You can create a range of meals from grilling fish to baking your favourite lamb roast or lasagne, or just steaming vegetables
The NN-CS894S also features in-built sensor technology to take the guesswork out of cooking and an 'easy swipe' control panel
Sleek and stylish design
Check out Panasonic's Steam Combi Microwave Ovens