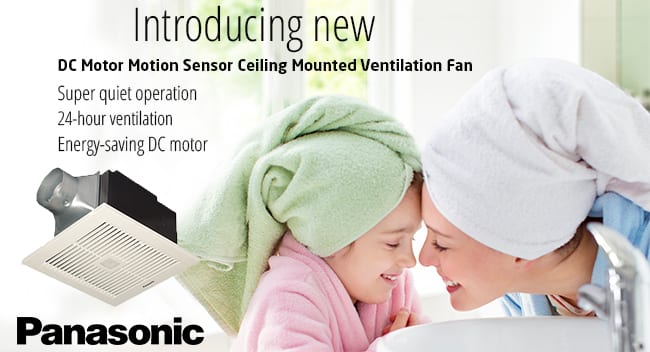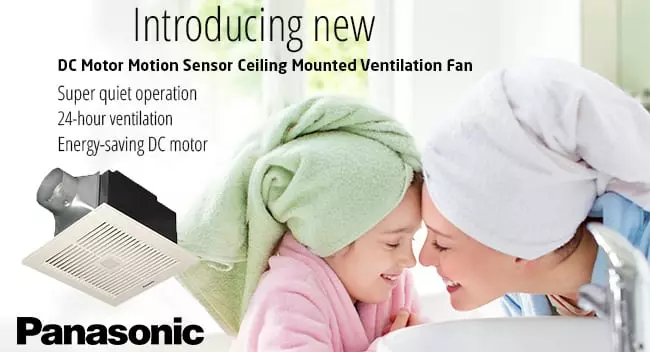 Modern homes and commercial buildings are built with sealed windows and doorways designed to keep cool air in during summer and warm air during winter. The only problem is this sealing can reduce ventilation, trapping pollutants (like smoke, dust end even CO2) and leading to very poor indoor air quality (IAQ). Poor IAQ had been linked to a range of issues, including mould growth and exacerbation of asthmatic breathing conditions.
That's why we have developed a brand new range of Panasonic Direct Current (DC) Motor Ceiling Mounted Ventilation Fans. These fans provide 24-hour ventilation and operate at super quiet condition, a new way to improve your home IAQ.
Constant air volume
Our fans are equipped with intelligent technology, allowing them to automatically maintain constant air volume within the fan operating limits to suit varying external static pressures.
24-hour ventilation
Instead of switching off after the run-on timer is finished, these fans can be set to then run at a low airflow setting continuously. Fresh air is bringing in continuously and helps avoiding mould and damp issues*.
Intelligent motion sensor
Equipped with an intelligent Motion Sensor**, our ventilating fans can detect human activity and switch on automatically when you enter the room and then switch off again after you leave.
Super quiet operation
Our ventilation fans have been designed to minimise the transmission of noise from blower to exterior, reducing the operation noise to incredibly low levels and creating a tranquil and silent environment.
Energy-saving DC motor
Our ventilation fans feature a DC Motor to reduce power consumption and save energy. The DC Motor operating temperature is comparatively lower than AC motors, providing a longer lifetime than their AC counterparts.
3 years warranty
We back our readability by offering a full 3 years parts and labour warranty.
*24-hour ventilation is optional and can be configured to suit each homes individual requirements.
**FV-24JR2 only
Motor Ceiling Mounted Ventilation Fans