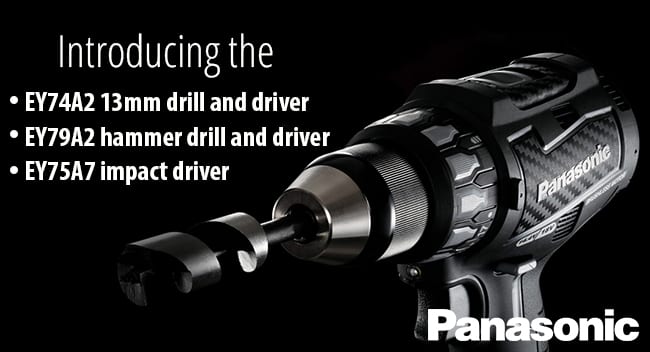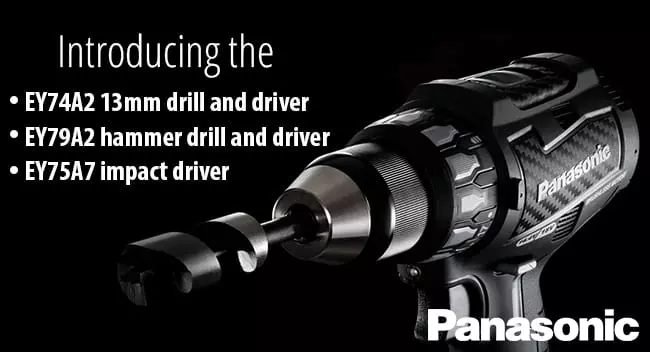 We have just announced three new cordless power tools using our latest brushless motor to deliver optimum performance and durability; introducing the EY74A2 13mm drill and driver, the EY79A2 hammer drill and driver and the EY75A7 impact driver.
The enhanced internal engineering and technology is complemented with a fresh new body design. The cordless tools have a 'carbon fibre look' textured finish, and a comfort grip for improved ergonomics. All models are part of Panasonic's 'Tough Tool IP' range of IP56 rated dust and water resistant power tools, designed to perform at their best whatever the conditions.
For all new models, we offer both 3.0 Ah and 5.0 Ah Li-ion batteries to suit the job at hand, along with a long lifespan under high workload conditions. The P-type 3.0 Ah battery is ultra-slim and light with a newly-developed ∅ 20mm battery cell and a new design for easier work in cramped spaces without compromising performance. The J-type 5.0Ah Li-ion battery has 'dynamic capacity' for long-time usage.
The tools are all available in a range of kits including 14.4V 4.2AH, 18V 5.0AH and 18V 3.0AH batteries. Panasonic power tools are available from Masters Home Improvement and specialist power tool distributors.
"These powerful tools won't let you down and are ideal for professional tradespeople such as plumbers, electricians and carpenters, as well as DIY enthusiasts. They are efficient and precise to support demanding drilling tasks as well as jobs that need fine control."

Chris Moore, Business Manager, Power Tools, Panasonic
EY74A2
13mm Cordless Drill & Driver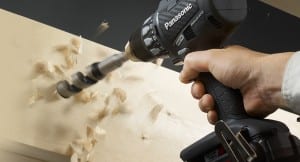 Compact body: length 178mm
Light weight: 2.05kg
High power: 50.0 N-m
Optimum rotation speed control
High power brushless motor
Variable speed control/reversible
18-stage clutch plus drill position
13mm heavy duty keyless chuck
LED light to support work
Electric brake
EY79A2
Cordless Hammer Drill & Driver
Compact body: length 188mm
Light weight: 2.10kg
High power: 50.0 N-m
Optimum rotation speed control
High power brushless motor
High speed brick/masonry drilling
Variable speed control/reversible
18-stage clutch plus drill position
13mm heavy duty keyless chuck
LED light to support work
Electric brake 
EY75A7
Cordless Impact Driver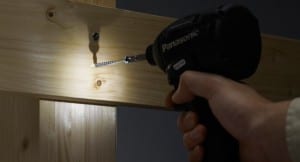 Compact body: length 188mm
Light weight: 1.70kg
High power: Max. 160 N-m
4-stage rotation speed selection
New design high power brushless motor
Self-drilling screw mode
Variable speed control/reversible
LED light to support work
Electric brake