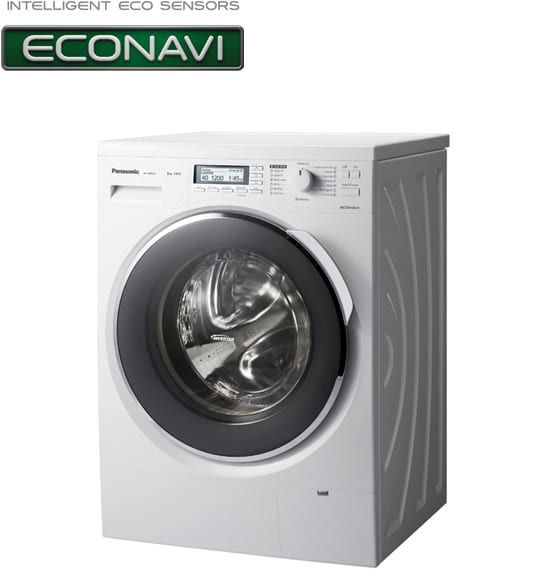 New VX Series washing machines feature intelligent stain removal and intuitive LCD screen
Panasonic is expanding its home appliance lineup with the launch of two premium smart and energy saving Washing Machines. The 10kg NA-140VX3 and the 8kg NA-148VX3 join the two models launched earlier in the year.
The new machines incorporate Panasonic's energy saving ECONAVI technology; feature 'Stain Master' to intelligently remove 23 of the most common stains; and have an LCD screen to view and control every aspect of your wash.
Prue O'Loan, Product Marketing Manager, Small Appliances and Whitegoods, Panasonic Australia, said "Panasonic continues its focus on introducing smart technologies to make everyday tasks easier.  With the 'Stain Master' feature the machine does the hard work for you, using the optimum setting to best remove the stain, and the handy LCD screen means you never have to check the instruction manual."
For ease of use the VX Series has a convenient LCD screen that provides intuitive control over the washing machine's programs for total control over any wash, and features a troubleshooting function to guide you on how to best use the washing machine.
Energy-Saving ECONAVI Eco Sensor Technology
Using ECONAVI technology and the innovative 3D sensor, this clever washing machine precisely measures the amount of clothing and adapts the energy and water needed for each wash, reducing the amount of water used. Panasonic's Inverter technology receives information from the 3D sensor to determine the amount of drum rotations needed. This enables the motor to work most efficiently according to the size of the load and also ensures energy savings.
Prue O'Loan added, "ECONAVI technology takes the burden out of energy saving in the home.  Consumers can make savings of up to 50 per cent on power and 30 per cent on water while washing compared with a non-ECONAVI model."[i]
The Silent Arch design integrated into the sides of the appliance effectively absorbs noise created during the wash cycle for quieter operation in the home.
The VX Series features a large capacity drum in a compact body.  This is an advantage for families with big laundry loads as many traditional 10kg models in the market are quite large – however the NA-140VX3's compact design means it will fit easily in a standard laundry space.
The VX Series features market leading energy star ratings and has a seven year warranty – two years on parts and labour and an additional five years on the motor. Both models are available now. For more information on these innovative new washing machines, click here or contact Panasonic on 132 600
Model
NA-140VX3 – 10KG
RRP
$1,499
Energy star rating
4.5
Model
NA-148VX3 – 8KG
RRP
$1,199
Energy star rating
4.5
Read more about ECONAVI technology here
[i] Using Eco Wash mode.