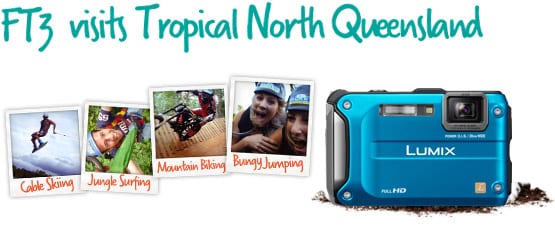 In a joint venture between Tourism Tropical North Queensland and Panasonic Australia, "The Adventure Project" video showcases the Tropical North Queensland region, demonstrating that it is Adventurous by nature. Delving into some of the amazing activities that can be undertaken, from the Great Barrier Reef to the Daintree rainforest, tropical islands, high adrenalin and relaxed indulgence, it sums up what the region has to offer.
The video was shot entirely on Panasonic's LUMIX DMC-FT3 Tough digital camera, demonstrating the amazing HD Video qualities of this compact camera.
On 8 November Tourism Tropical North Queensland and video producers HD Evolution were awarded a prestigious 2011 Australian Video Producers Association (AVPA) award in Melbourne, in the hotly contested category "Corporate and Promotion Product $5000 – $10000."
The awards are assessed by highly regarded industry professionals on four criteria; Product Structure, Camera Skills, Post Production and Technical Quality. "The Adventure Project" was produced and submitted for the award by Vince Sofia at HD Evolution Video Production.
Rob Giason, CEO of Tourism Tropical North Queensland said "In addition to being technically excellent the video is beautiful and exciting, showing the activities that visitors to our Adventurous by nature region enjoy."
Dan Connell, Marketing Communications Manager, Panasonic Australia said: "We are pleased to be able to support Tourism Tropical North Queensland. The FT3 is the ideal camera to showcase the region. It's built tough to accompany any of the outdoor activities on offer, from snorkelling to rainforest adventures."
Panasonic Australia this week launches an online campaign utilising elements from the video to encourage fans to offer suggestions on how they would best put the tough LUMIX FT3 through its paces in Tropical North Queensland.
The best answer will win 5 days of adventure to Cairns and The Great Barrier Reef for two, with their very own Panasonic LUMIX FT3 camera to capture the experience.
Visit www.facebook.com/PanasonicAustralia to enter.
Click on the YouTube link to view 'The Adventure Project' in its entirety.