Versatile Panasonic Fuzzy Logic Rice Cookers – Perfect Cooking Every Time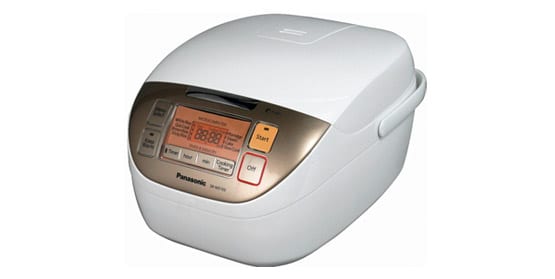 Panasonic Australia has introduced four versatile Rice Cookers featuring innovative Fuzzy Logic technology, to precisely adjust the temperature and cooking time for each meal for the perfect result every time.
Mathew Harrison, Group Marketing Manager – Home Environment, Panasonic Australia, said: "Our new Rice Cookers not only create perfect rice but also provide a range of other tasty meal choices, including cooking porridge, baking cakes, making curries and soup or steaming vegetables."
The top of the range SR-MS183WST and SR-MS103WST have a unique diamond fluoro coated pan for evenly cooked food and long lasting durability. This coating generates larger steam bubbles to ensure that rice does not stick to the pan. The non-stick surface makes it simple to empty the rice at the end of the steaming cycle and quick and easy to clean the appliance.
The entry level-models, the SR-DE183WST and the SR-DE103WST, feature black cooking pans coated with Japanese charcoal to cook food with gentle, evenly distributed heat.
Users can be creative and serve up more than just steamed rice with eight program modes, including porridge, cake, curry, soup and steam modes. Make delicious cakes thanks to the combination of top and bottom heating elements for superior baking results, as well as Fuzzy Logic to determine the best cooking time and temperature for perfectly baked cakes.
The versatile Rice Cookers also have a steaming basket allowing users to cook different meals simultaneously. Program modes for cooking rice include white rice, brown rice and sticky rice. For the time-poor user, Extra-quick Cook mode allows users to steam rice in as little as 15 minutes.
The range boasts a lightweight, compact design to complement any contemporary kitchen. The new models feature a removeable inner pan and non-stick surfaces for easy washing and cleaning, while the MS Series also has a detachable inner lid for greater convenience. The power cord can be removed for tidy storage, and included with the cooker is a handy rice scoop, measuring cup and steam basket.
The new Rice Cookers are available now from leading home appliance retailers. For more information, please contact Panasonic on 132 600 or visit www.panasonic.com.au.
| Model | RRP |
| --- | --- |
| SR-MS183WST 1.8L MS Series (10 cups) | $209.00 |
| SR-MS103WST 1.0L MS Series (5 cups) | $189.00 |
| SR-DE183WST 1.8L DE Series (10 cups) | $169.00 |
| SR-DE103WST 1.0L DE Series (5 cups) | $149.00 |