Create Perfect Meals Every Time with New Inverter Microwaves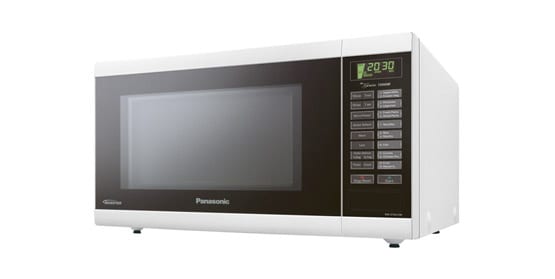 Panasonic Australia today announced the addition of seven new Inverter Microwaves to its popular range, featuring enhanced functionality and stylish design to complement any contemporary kitchen.
The NN-SD691S, NN-ST671S and NN-ST651W models incorporate Genius Sensor Cooking technology which intelligently monitors and adjusts cooking time and power levels to provide perfectly cooked meals, every time.
Nicolas Cauzac, Product Marketing Manager – Microwaves, Panasonic Australia, said: "Panasonic continues to be the leader in this very competitive category, and the latest additions to our Inverter Microwave range further establish our position with our strongest lineup yet."
"Panasonic prides itself on offering easy to use Microwaves with innovative Inverter technology and smart features such as Genius Sensor technology for perfect results every time. With these models' stylish modern design, including stainless steel, silver and white models, customers can choose a Microwave that perfectly complements their home."
The NN-SD691S leads the way in sophisticated kitchen styling, featuring a blue LCD display, half mirror glass door, sleek stainless steel fascia and flawless metallic silver finish.
The NN-CF781S provides the ultimate combination – an Inverter Microwave plus convection and grill cooking, all in one compact design. It features an ingenious Flatbed design, removing the need for a conventional turntable.
The NN-ST671S, NN-ST651W and NN-ST641W models are must-have additions to any contemporary kitchen, offering cooking versatility with a spacious interior and stylish touch control panel design. The compact NN-SD351M and NN-SD381S offer an easy to use pop-up dial and button control.
Inverter Cooking Technology
Inverter technology allows you to use your microwave with greater control than ever before. Conventional microwave ovens operate on only one power level – the microwave energy is either on or off. This on/off delivery of cooking power results in cold spots and overcooked edges. Panasonic Inverter technology delivers graduated power sequences so food is cooked more evenly, preserving texture and flavor, and helps to prevent spill-overs and burnt edges.
Genius Sensor Cooking Function
The NN-SD691S, NN-ST671S and NN-ST651W also feature Panasonic's Genius Sensor with One Touch Sensor Cooking and One Touch Sensor Reheat. This effective function provides pre-programmed cooking and reheating cycles for your favourite meals, adjusting the cooking times and power levels to precisely match the food being cooked. The microwave will also calculate the ideal reheating time for your meal simply with a touch of the Sensor Reheat button.
The new Microwaves will be available in store in late September from leading home appliance retailers. For more information, contact Panasonic on 132 600 or visit www.panasonic.com.au.
| Model | RRP |
| --- | --- |
| NN-SD691S 32L | $359 |
| NN-ST671S 32L | $329 |
| NN-ST651W 32L | $239 |
| NN-ST641W 32L | $219 |
| NN-CF781S 27L | $769 |
| NN-SD351M 23L | $174 |