Keep Smiling With New Toothbrushes from Panasonic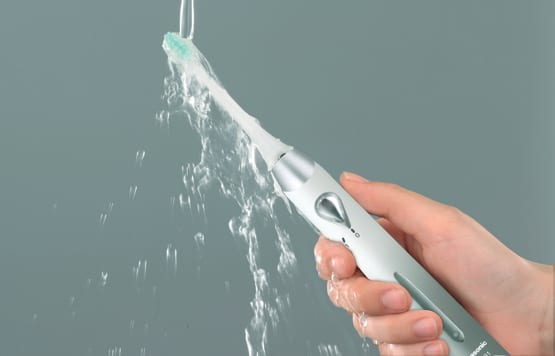 Enjoy the confidence of a bright smile anywhere, anytime with Panasonic Australia's first ever range of toothbrushes. The Panasonic EW-DS11 battery operated toothbrush and the EW1031 rechargeable electric toothbrush both feature sonic vibration to ensure a thorough clean while protecting gums, and are stylish and compact enough to take anywhere.
The battery powered EW-DS11 is supplied in a fashionable aluminium case, with the toothbrush and case available in five different colours – red, pink, silver, black and orange – to match the user's personal style.
The toothbrush delivers 16,000 sonic vibration brush strokes per minute with a dual-edge brush and exceptionally fine micro-bristles to clean difficult to reach places, so users can enjoy fresher breath and cleaner teeth. The brush heads are easily replaceable and each one can be used for up to ninety days without bristle degradation.
According to Noah Yamamoto, Product Manager – Appliances, Panasonic Australia: "This stylish and compact toothbrush is the perfect match for any busy Australian – fitting easily into your gym bag, office drawer, or handbag. The colour matched case ensures hygienic storage, and the battery operation is whisper-quiet. Enjoy fresh breath and a dazzling smile from the office to a night out."
Panasonic's rechargeable EW1031 toothbrush operates at 26,000 vibrations per minute, gently and effectively removing plaque. The EW1031 is designed with a metallic finish and is available in pink and silver.
This stylish toothbrush is specifically designed to carefully clean the small spaces between teeth and even behind molars, with a slim, angled neck, tapered brush head and contoured micro-bristles.
The toothbrush provides around 40 minutes of continuous operation, and the powerful, energy saving lithium battery ensures a short charging time and long service life. The EW1031 is easy to clean, with a non-contact charging station.
Pricing and Availability
EW-DS11
$32.95 RRP
Available now
Black, Orange, Red, Pink and Silver
EW1031
$149.95 RRP
Available now
Silver and Pink
For stockists, contact Panasonic on 132 600 or visit www.panasonic.com.au.