We've married the incredible viewing experience of 4K with the versatile smarts of Full HD recorders into one device to create the ultimate entertainment solution! Meet the Panasonic DMR-UBT1GL-K 4K Ultra HD Premium Blu-ray Player and Full HD Recorder. This premium model delivers 4K UHD playback; a versatile Twin HD Tuner; plus a huge two terabyte hard disk drive with Full HD recording. Naturally the UBT1 is also equipped with fully-fledged networking features for easy access to VOD content and the ability to enjoy live and recorded content via a smartphone/tablet.
A powerful processor for stunning picture quality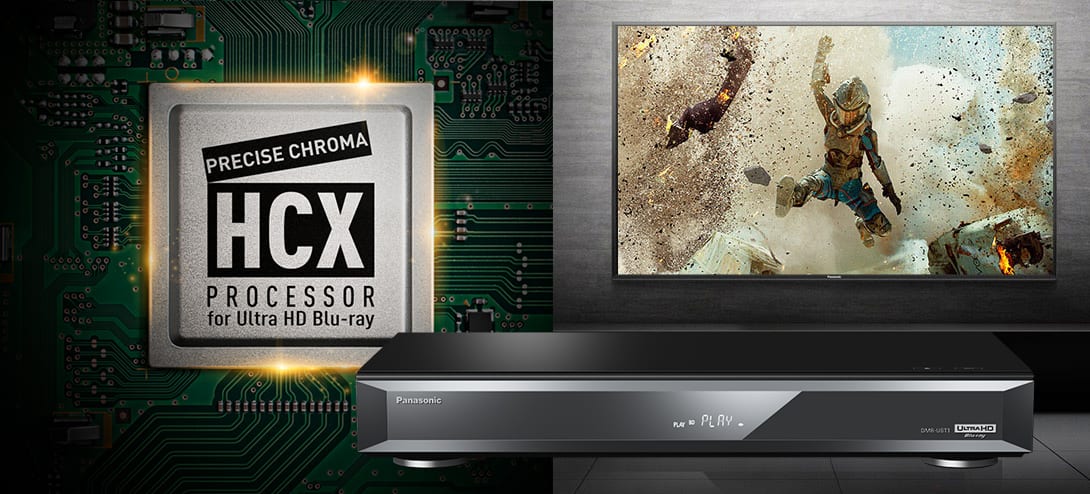 The UBT1's 4K resolution displays the latest movies and series with outstanding clarity, lifelike depth and vivid colours, whether you're watching 4K UHD Blu-ray discs or 4K Video on Demand. At the heart of the player, Panasonic's HDR 4K engine, the HCX (Hollywood Cinema Experience) Processor for Ultra HD Blu-ray, delivers the most accurate movie playback, true to the filmmaker's intention. In addition, the 4K Direct Chroma up-scaling function delivers 4K-quality pictures with high resolution and rich colours from 2K content.
Designed for high-resolution audio production
The UBT1 provides excellent audio to match the viewing experience, switching off unnecessary circuits (like the HDMI or coaxial output) to reduce noise and enhance performance. In addition to conventional WAV/FLAC/MP3/AAC/WMA formats, DSD (5.6 MHz/2.8 MHz) and ALAC music files can be reproduced. Simply connect to a home audio system to enjoy music sources equivalent to studio master sound quality.
A full suite of recording and networking smarts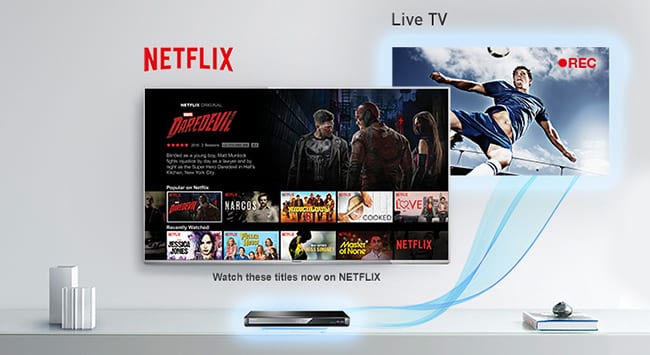 The UBT1's recorder suite of features provides flexible recording and viewing to suit your lifestyle – from recording in Full HD to the 2TB HDD or Blu-ray/DVD disc; viewing via TV, smartphone or tablet; using the Twin HD Tuner to record free to air TV programs while watching Netflix; and having access to TV programs in and out of the home. Catch up with your favourite content – whether it's Netflix or the latest HbbTV. And with Panasonic's 'TV Anytime' you can effortlessly stream TV to your smart device or set up recordings from wherever you are in the world.
Panasonic DMR-UBT1 4K Ultra HD Premium Blu-ray Player and Full HD Recorder launches in Australia in September 2017.
DMR-UBT1GL-K
Panasonic Recorders