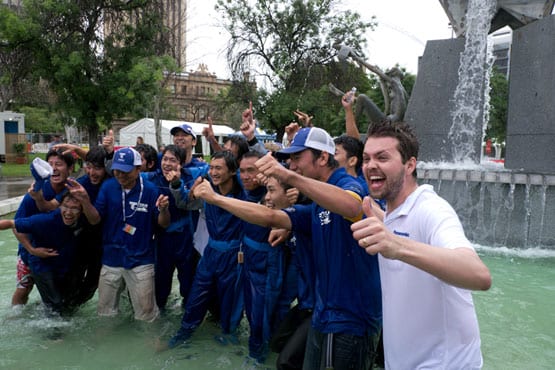 Tokai University crossed the finish line first in the 2011 Veolia World Solar Challenge (WSC) on Thursday 20th October at 1:07pm Darwin time. Supported by Panasonic's  HIT®*1 solar cells boasting the world's highest level*2 of energy conversion rate, as well as high-capacity lithium-ion batteries Tokai took 32 hours and 45 minutes to drive their car – Tokai Challenger 2 – 3021 kilometres on solar power averaging a speed of 91.54 kilometres per hour.
This year's race started on October 16, 2011. Although the Tokai University team started at the qualifying position of fifth place, from the start, the team took the lead and continually increased its margin throughout the entire race.
The jubilant team and support crew celebrated at the finish line in Angle Vale before making their way to the official ceremony in Adelaide's Victoria Square. Champagne flowed and the traditional fountain dunking entertained the waiting crowds.
In one of the closest contests in the event's history the gallant Nuon team from the Netherlands gave it all they had. The two teams shared the final checkpoint in Port Augusta just minutes apart. But as the sun faded and the clouds rolled in it became clear the Dutch team and their vehicle Nuna 6 were not going to catch the Japanese team and had to be content with second across the line. They arrived in Angle Vale at 2.12 pm Darwin time in a time of 33.5 hours with an average speed of 88.62 kilometres per hour.
The American Solar Champions, the team from Michigan University, continued their recent tradition of crossing the line 3rd reaching Angle Vale at 3.55 pm, in 35 hours and 33 minutes with an average speed of 84.33 kilometres.
Note 1: As a mass-produced, residential solar power generation system, based on Panasonic's survey; as of March 2011.
Note 2: HIT stands for Heterojunction with Intrinsic Thin-layer; heterojunction means a combination of amorphous and crystalline structures; intrinsic refers to intrinsic or i-type semiconductors.
To follow Scott's journey as he accompanies the Tokai University solar car team visit:
Facebook:
http://www.facebook.com/PanasonicAustralia
Twitter:
http://twitter.com/panasonicau
Handle: @PanasonicAU
#WSC
#WSC201