Sydney, 20 October 2011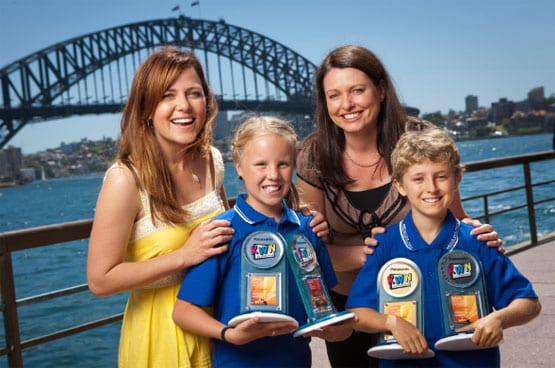 The Dendy Opera Quays Cinema in Sydney opened its doors to more than 170 of Australia's finest young student film makers at the annual Panasonic Kid Witness News (KWN) New Vision Awards yesterday.

The highly acclaimed winners on the night were top prize winner Mooloolaba State School, from Mooloolaba on Queensland's Sunshine Coast and Ocean Reef Senior High School from the northern suburbs of Perth, Western Australia.
Mooloolaba State School took home top prize, the prestigious Australian Regional Award, as well as the Queensland State Primary Award and National Primary Award for its film, Grandpa.  The students were also recognised for their technical excellence, taking home two National Spotlight Awards in the Concept and Writing categories.  The film is a special dedication that tells in animation the true story of Mooloolaba student Ruby Lawrance's Grandpa – Ian "Yappy" McDonald – a prawn fisherman who went down with his boat called Jodi off Caloundra in 1982.
Ocean Reef Senior High School was awarded the National Secondary Award and Western Australian State Secondary Award for its film, Internet Safety, which warns of the potential dangers posed to students when visiting online chat room sites. The film delivers a cautionary lesson to educate viewers on protecting their personal details and to be wary of strangers who try to make contact online.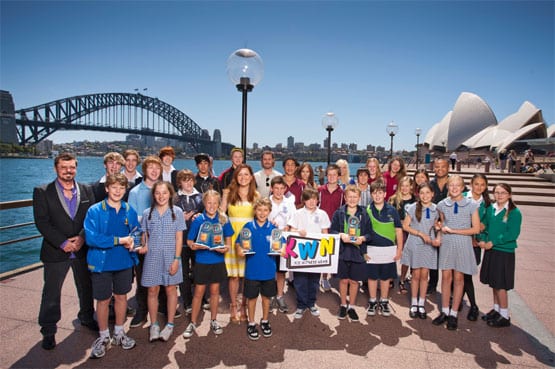 Excited primary and secondary students travelled across the country to represent their state. Hosted by TV personality and KWN ambassador, Toni Pearen, the New Vision Awards was also attended by the KWN program's guest judges; including founding member and lead guitarist of Australia's most successful rock export INXS, Tim Farriss; one of Australia's best young film and television actors, Luke Carroll; and Chief Creative Officer at The Campaign Palace, Reed Collins.
To show their support, Department of Education representatives from QLD, TAS, SA and WA were in attendance at the awards yesterday to celebrate the achievements of their state's students involved in the 2011 program.
This year the KWN competition invited 64 primary and secondary schools from across the country to script, produce, direct, star in and edit their very own short film. The judges critiqued the films, looking at the originality of the concept and the quality of the script, sound, videography and editing.
As the Regional Award winner, Mooloolaba State School has secured a place to represent Australia at the Asia Pacific KWN Regional Awards to be held in India later this year.  Two students and one teacher will be invited to attend the gala event which is scheduled to take place from 12th – 15th December 2011 and will see students compete against other schools in the Asia Pacific region including New Zealand, Thailand, Malaysia, Singapore, Vietnam and Indonesia for a place at the Global Awards.
Panasonic Australia Managing Director, Steve Rust said, "The judges were moved and impressed by Mooloolaba State School's outstanding entry – a true story that has your attention from beginning to end."
"This sensitively told story was also rewarded for its technical excellence.  It brings stop start animation into the world of technology through modern filmmaking with winning results. Blending the old and new has been a theme in this years' competition and it just goes to show the broad range of film knowledge these students have learnt from the program.  Well done to all schools who submitted a film in the competition, a tremendous effort once again."
Toni Pearen, KWN ambassador and competition judge, said she was particularly impressed this year with how well the students had mastered the art of the highly technical field of film production.
"The KWN students this year have really blown the judges away.  They've submitted films which show a highly developed skill level, far beyond their years, especially in the area of editing, special effects and music composition."
"This year the students have tested their imagination and explored the tricks of technology to create stylised short films that often incorporate an original score.  Another outstanding year, congratulations to all the students involved, they should be very proud!"
Panasonic launched the KWN program in Australia in 2004 following the success of the program in other regions.  Developed in conjunction with the Department of Education and Training, the Panasonic KWN program aims to boost creativity, enhance communication skills and foster teamwork through the collaborative art of film production in school students.  Participating schools are provided with Panasonic equipment, and are offered film making workshops, online video tutorials and group mentoring sessions from industry experienced judges.
Globally, in 2011, over 683 schools in 27 countries and regions will participate in the Kid Witness News Program, including: Canada, USA, Brazil, Mexico, Peru, Panama, Austria, Czech Republic, Germany, Italy, Poland, Russia, Slovakia, Spain, Switzerland, United Kingdom, United Arab Emirates, Oman,  China and Hong Kong, Indonesia, Japan, Malaysia, Singapore, Thailand, Vietnam, New Zealand and Australia.
For a full list of 2011 KWN winners, please visit: http://www.panasonic.com.au/kwn