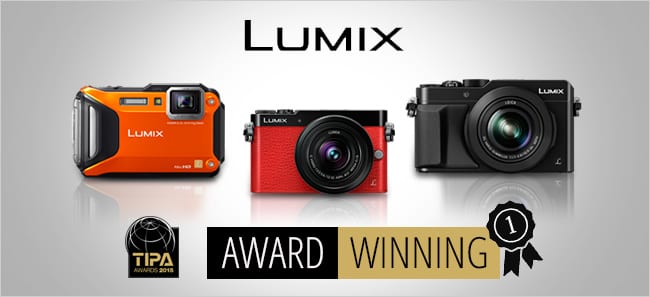 We are excited to announce that LUMIX cameras have impressed judges once again at the prestigious Technical Image Press Association (TIPA) awards, with three of our cameras receiving accolades in what is widely recognised as one of the most coveted photo and imaging awards worldwide.
The GM5 has been awarded 'Best CSC Advanced', the DMC-LX100 took out 'Best Photo/Video Camera Expert' and the DMC-FT6 was named 'Best Rugged Camera'.
LUMIX DMC-GM5 for 'Best CSC Advanced'

"Measuring a mere 59.5mm high by 98.5mm wide, the 211g Panasonic DMC-GM5 is a very compact and highly portable Micro Four-Thirds CSC. The camera's Live View finder has 100% coverage and contains 1.16M RGB dots; its Digital Live View MOS Sensor deliver 16MP. For connectivity, the user can simply scan the QR code displayed on the camera monitor with a smartphone or tablet and use either as a remote controller. The camera delivers JPEG and RAW stills or AVCHD or MP4 video. It has all the standard exposure modes plus a full complement of metering patterns, plus an ISO range 0f 200-25,600 (video: ISO 200 to 3200). The impressive shutter speed range is 60 seconds to 1/16,000 of a second. " – TIPA jury spokesperson
LUMIX DMC-LX100 for 'Best Photo/Video Camera Expert'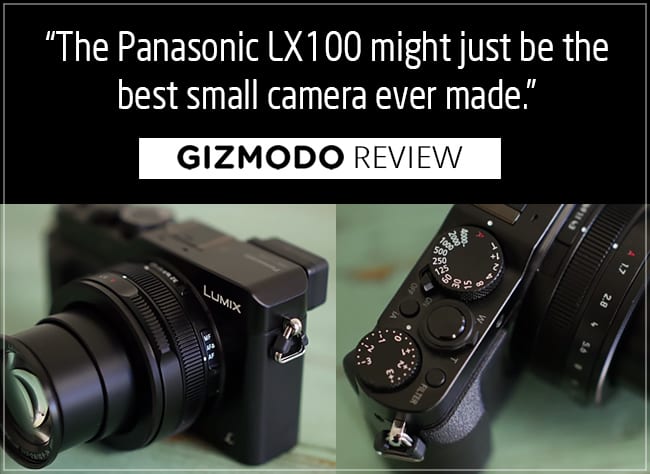 "For enthusiasts who want both a quality still and video camera, the LX100 has a 12.8MP 4/3-inch High-Sensitivity MOS sensor, and the ability to record 4K video. The LX100 has an integral 24-75mm (equivalent) f/1.7-2.8 Leica DC Vario-Summilux lens and numerous control and exposure dials that allow for complete control over imaging, including the ability to deliver 11 frames per second full-resolution images. The video side is quite impressive, with the ability to record Full HD 1920 x 1080 AVCHD Progressive or MP4 at 60p, or 4K 3840 x 2160 at 30 fps. Panasonic has proposed what they dub "4K Photo," grabbing an 8MB still image from the 4K video footage. Other features include WiFi and NFC connectivity and RAW+JPEG format choice. " – TIPA jury spokesperson
LUMIX DMC-FT6 for 'Best Rugged Camera'

"Compact is the trend in rugged cameras and the Panasonic DMC-FT6 packs a lot of features into a small package. It can handle underwater depths to 43 feet (13 metres) and drops from 6.6 feet (2 metres), and still keep shooting in temperatures as low as 14F (-10C). Trail aids such as on-board GPS, barometer and altimeter are included. The camera has a 16.1MP MOS sensor and an integral 4.6X (28-128mm equivalent) Leica DC Vario-Elmar zoom. ISO range is 100-3200 with a push to 6400 available in certain modes. It can record Full HD and shoot at 10 frames per second (7 frame burst); higher bursts are available at lower image resolution. There are 14 Creative and 16 Scene modes, plus WiFi and NFC compatibility." – TIPA jury spokesperson
More LUMIX awards
2014 TIPA award winners.
2013 TIPA award winners.
Our new TZ70 travel camera is winning over the critics.
Critics are loving our stylish GF7 – the latest LUMIX G Series addition.
Reviewers love our LUMIX LX100 creative compact camera.
LUMIX LX100 makes a huge splash with Gizmodo.
The new LUMIX LX100 nabs a 5 star Editor's Choice review with ePHOTOzine.
FZ1000 rides a wave of positive reviews into stores.
The mighty GH4 just keeps racking up the accolades.
LUMIX nab three prestigious EISA (European Imaging Sound Association) Awards.
And the winner is… Panasonic!
Related links
Read more about the LUMIX GM5.
Read more about the LUMIX LX100.
LUMIX FT6 product page.