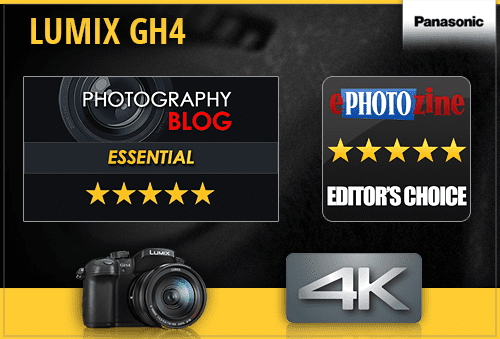 Once again, the LUMIX GH4 camera is impressing the reviewers and proving itself as the top choice for sophisticated photographers and videographers, taking out two more excellent awards.
ePHOTOzine gave the GH4 a brilliant 5 star rating and an Editor's Choice award, while Photography Blog also gave the camera 5 stars and bestowed upon it an essential award.
"The Panasonic Lumix GH4 is a dream camera for the videographer and photographer alike." – ePHOTOzine Editor's Choice 5 Stars.
It's hardly surprising to us that the camera continues to excite because it really has the 'wow' factor. Boasting standout 4K video recording, remarkable still image quality and responsiveness, plus serious commercial editing and production features, the GH4 is the compact system camera to watch.
"If you need one camera to shoot both stills and video, the Panasonic Lumix DMC-GH4 is currently by far your best choice." – Photography Blog's Essential Award 5 Stars.
Meanwhile, professional photographer and LUMIX ambassador Ken Duncan, said that "new features such as 4K shooting which delivers superior editing capability coupled with the portability that mirrorless camera's similar to what the new Lumix camera offers far exceeds the capability of the traditional and "often heavy" digital SLR cameras." Excerpt from Smarthouse Lifestyle Technology Guide.
MORE
LUMIX GH4 and TZ60 impress judges and receive international accolades.
The LUMIX GH4 is ahead of the curve with world-first* 4K video recording.
Read ePHOTOzine's review (5 Stars, Editor's Choice).
Read Photography Blog's review (5 Stars, Essential Award).
The new LUMIX DMC-GH4 (body only).
The LUMIX GH4 KIT (Micro Four Thirds Lens mount).