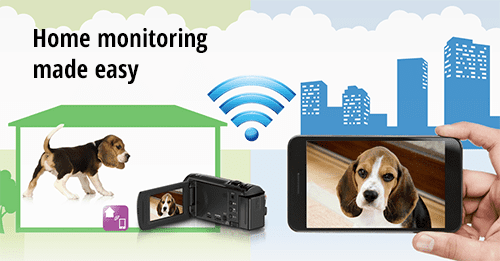 Get the camcorder, download the Panasonic Image App to your smartphone and you are all set for some fun!
The video home monitoring feature available on the new range of Panasonic camcorders* means you can be at home even when you're not. It's a very cool feature that lets you keep an eye on things at home from your smartphone and it's super easy to set up.
Getting started is as simple as downloading the Panasonic Image App to your smartphone and linking to your new camcorder. As soon as that is done you can monitor your home while you are out by checking the image on your smartphone, speak to those at home and even take pictures.
You can even up the ante by connecting an optional remote pan and tilt cradle with a motion sensor to your camcorder, so that you can capture even more of the action.
The great thing about this home monitoring feature is that it spans the divide from really serious home security to completely frivolous spying on your pets (and kids, nannies, housesitters and more).
The flagship HC-W850M model even boasts a night mode that allows you to film in the dark – perfect for busting the culprit who sneaks food from the fridge when everyone in is bed!
And who knows? When you set up you camcorder, you might get lucky and catch a secret video of your dog that is so hilarious you are both set on the road to viral YouTube superstardom like this one:
*Available with all the new Panasonic Wi-Fi capable camcorders including the HC-V250GN-K, HC-V550MGN-K, HC-V750MGN-K, HC-W850MGN-K.
HOW OUR REMOTE PAN TILT CRADLE WORKS