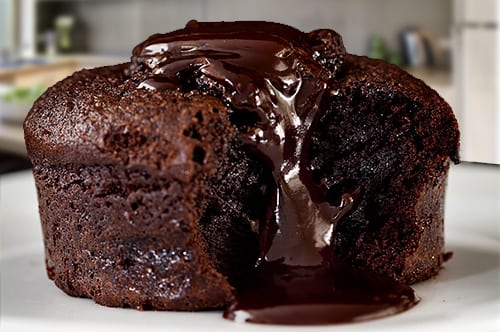 The old adage says that an "apple a day keeps the doctor away" but it may well be that a little chocolate can do the job just as well. There is increasing evidence that chocolate is more than just a wicked treat and actually contains a number of health-boosting properties.
Studies show that in moderation the delicious product of the humble cocoa bean could do everything from lower your blood pressure, to increasing your brain power and even alleviating PMS (a great excuse to indulge those cravings).
Talk about good news for all the chocoholics out there! In celebration of our decision to view chocolate as a health product, we've put together an amazing chocolate cake recipe that you can make in the microwave and be in enjoying after just 60 seconds.
Cake in 60 seconds
[Equipment]
1 hand mixer
1 microwave oven
[Ingredients]
5 tsp cocoa powder
3 tbs spelt flour
1 pinch salt
3 tsp sugar or evaporated cane juice
1/4 tsp baking powder
3 tsp coconut oil or vegetable oil
3 tbs milk
1/2 tsp pure vanilla extract
[Method]
1. Place all dry ingredients in a bowl and mix well using a hand mixer.
2. Add liquid and stir then transfer to either a small dish or even a coffee mug.
3. Microwave for 30-40 seconds
Then toast to your health and enjoy that delicious chocolate treat.
Check out Panasonic Microwave range.
MICROWAVE RECIPES
For convection microwave ovens
The perfect combination for a fun dinner: BBQ Pork Spare Ribs.
Prawn & Salmon Filo Parcels: Whip up this tasty treat in just twenty minutes.
For conventional microwaves
Fast, fresh and healthy microwave fish.
Bypass the grocery aisle and make your own Easter treats (Perfect melted chocolate).
Healthy vegie choice with this Microwave Stuffed Tomatoes recipe.
Today's microwave recipe – a Brazilian-Style Flan – will make you want to samba.
Foodhack your way to a decadent brownie.
Lamingtons, the pride of Aussie cakes.
Cheat your way to the perfect Christmas pudding.
Impress with a mouth-watering pear and chocolate pudding.