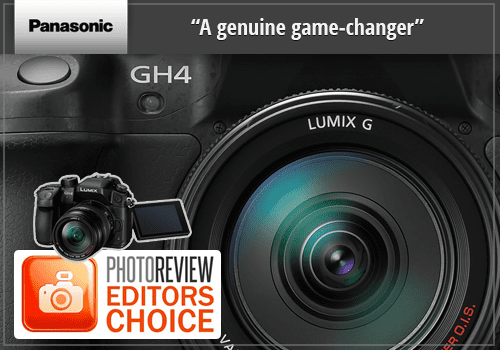 "From the start we felt the GH4 could be the most significant camera Panasonic has released so far, and after using it for almost two weeks we believe it will be a genuine game-changer."
Photo Review 9 Stars Editors Choice
The LUMIX DMC GH4 is riding an extraordinary wave of critical acclaim, scooping yet another fantastic review and award – this time from Photo Review. After putting the GH4 through its paces over a number of categories such as Build, Ease-of-use and Image Quality, the Photo Review team gave it nine stars out of ten and the coveted Editors Choice award.
"Not only is it a superior performer for still image capture, but to offer such a wide range of video options – many of them meeting professional requirements – puts the icing on an already attractive cake and takes the camera into areas we could only dream about previously."
Photo Review 9 Stars Editors Choice
While the GH4 is positively loaded with outstanding features and technologies, the "wow" factor definitely lays with its hybrid nature, making it the ultimate professional tool for commercial photographers and videographers. In addition to stunning stills, the GH4 provides 4K video recording for the best possible video quality is backed by features to support serious commercial editing and production.
"Panasonic isn't without competition in the stills arena… But none of them yet matches the GH4's video capabilities or quality. And this combination of excellence in both imaging fields sets the GH4 in a class of its own."
Photo Review 9 Stars Editors Choice
With yet another brilliant award and review added to the pile, the GH4 is proving it has what it takes to outclass the competition. Photo Reviewer called this camera a "game changer" for a very good reason: the GH4 is leaps and bounds ahead of what we have come to expect from a DSLM camera.
READ MORE
The LUMIX GH4 is raking in the awards.
LUMIX GH4 and TZ60 impress judges and receive international accolades

The LUMIX GH4 is ahead of the curve with world-first* 4K video recording.
Seven reasons why photographs can boost your happiness.