Enjoy freedom, flexibility and reliability when you're at home with Panasonic's new cordless phone models, the KX-TG6822ALB Twin Pack and KX-TG6821ALB Single, which are packed with a range of advanced features including customised call blocking, noise reduction technology and the ability to communicate during a blackout.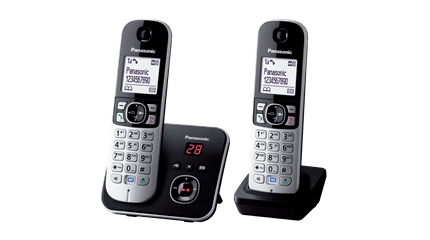 It's hard to beat the convenience of a cordless phone at home when you can make and receive calls wherever you are. And with Panasonic's unique Noise Reduction feature you can enjoy the confidence of being able to clearly and easily hear the person you're talking to with a reduction in background noise of up to 75%. On top of that you can even adjust the pitch of phone voices so people of all ages can talk comfortably and be easily heard.
Of course, the convenience of a cordless phone is no good if you don't have any power and communication is cut off. This is where Panasonic's cordless phones really come into their own. There are times when being unable to make a call is not simply inconvenient but a real issue during a crisis. The clever Power Failure Talk System means that during a blackout you simply place the handset on the base to supply the power stored in your handset to the base unit, and you can then make calls even when the power is out.
As well, the very handy Smart Key, Incoming Call Block and Night Mode features put you in control of calls so they don't become intrusive but still enable you to take any important calls. You can check missing calls, answer incoming calls with speakerphone on, listen to voice messages or snooze the alarm. You can also customise your phone so it only rings for selected people or stays silent from a pre-set time, like bedtime for example, giving you the ultimate in control.
Add in the Advanced Digital Answering Machine with remote operation so you can access it away from home, and the large 1.8" white backlit LCD screen, and these innovative cordless phones are a must-have around the home.
Find out more about our cordless phones here