Launching the SC-ZT2, Panasonic's first fully wireless home theatre audio system made for Full HD 3D.
This week Panasonic has unveiled the latest addition to its Full HD 3D home entertainment solution, the SC-ZT2. Available in June 2010 the SC-ZT2 will have a RRP price of $1,999.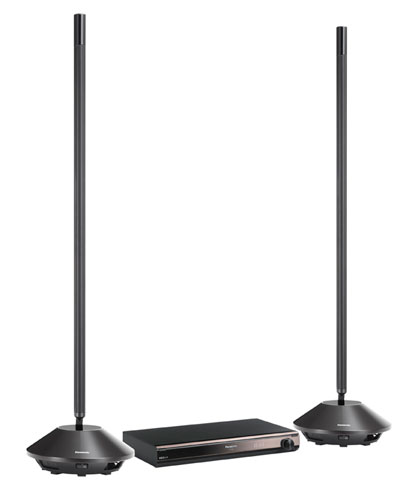 The new SC-ZT2 can transmit Full HD 3D signals from Panasonic's Full HD 3D Blu-ray DiscTM Player to the Full HD 3D TV, without the need for speaker cables.
With the SC-ZT2, home theatre enthusiasts can do away with speaker cables and arrange speakers throughout the room without worrying about tripping hazards or unsightly cables crossing the floor.
The ultra-slim pole speaker design is engineered by arranging four speakers vertically inside a pole to achieve a parallel sound system. This creates a lifelike virtual 7.1 sound from two speakers, which provides ideal listening conditions whether you are lying down or sitting on a sofa in front of a TV.
Because the system produces sound in a parallel configuration, it is crisp and clear with minimal reflected sound from the ceiling or the floor.
Surround sound and integrated Subwoofer
Even though the SC-ZT2 is a 2-speaker system, Panasonic's virtual technology lets users enjoy Dolby® TrueHD and DTS™-HD 7.1-channel surround sound by combining it with a Panasonic Blu-ray Disc Player or Recorder with built-in audio codecs – so if you don't have the space to install eight speakers, you can still enjoy realistic sound. In addition the SC-ZT2 also boasts an integrated subwoofer.
ARC Compatibility
The SC-ZT2 is compatible with Audio Return Channel (ARC). This simplifies connection, by now allowing audio signals to be sent from your TV with ARC capability back to your Home Theatre System using the same HDMI connection that sends audio/video signals to the TVi. It also supports 3D images and Full HD video.