Full HD 3D VIErA Plasma, Full HD 3D Blu-ray Disc Player and Full HD 3D professional camcorder offer a total end-to-end 3D solution
Panasonic is launching its Full High Definition 3D solution for the Australian market by unveiling four new Full HD 3D Neo Plasma televisions, a Full HD 3D Blu-ray Disc Player and high-precision 3D Eyewear. The Panasonic solution is designed to be the best Full HD 3D solution in the market, and is due to be rolled out from June 2010.
To understand how 3D technology works please view our online brochure.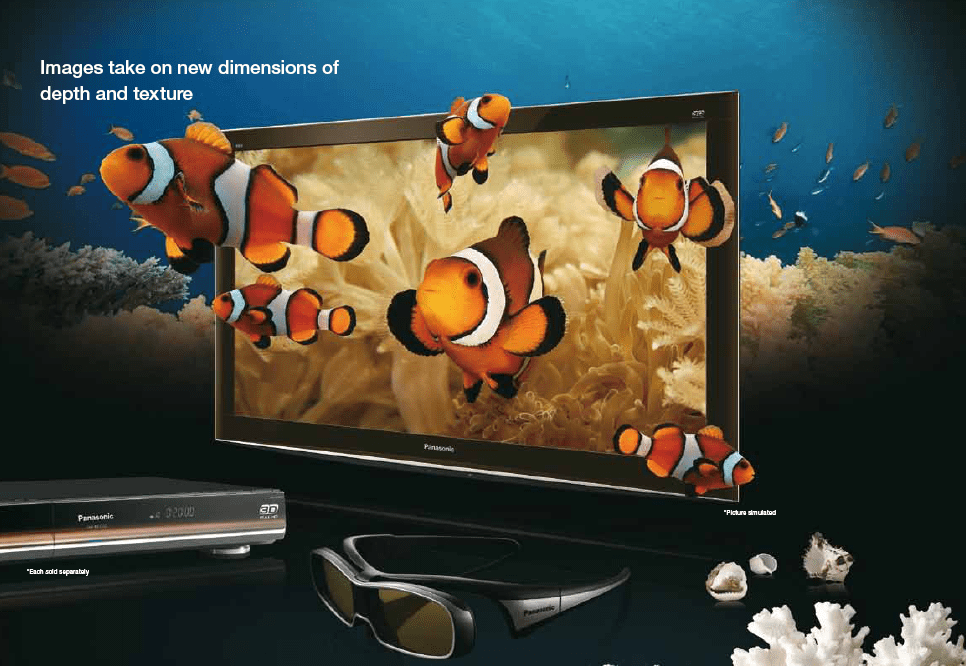 3D TV
The Panasonic Full HD 3D VIERA Series features Neo Plasma technology, which boosts light emission speed and reduces picture crosstalk. By compressing the luminescence time duration and the amount of afterglow, afterimages that appear when switching between left and right eye images are reduced, to render crisp, clear Full HD 3D images.
Paul Reid, Director, Consumer Electronics Group, Panasonic Australia, said the Neo Plasma approach far surpassed previous 3D technologies. Reid goes on to say:
There is no better showcase of the immersive experience of 3D in the home than Panasonic's Full HD Neo Plasma. Qualities such as speed, contrast and viewing angles are all inherent strengths of Neo Plasma and Panasonic has been a leader in these benchmarks for a number of years. As a young technology Plasma continues to be best placed to take advantage of 3D TV.
To create the best possible Full HD 3D picture, Panasonic has developed new, faster screen phosphors; coupled with its 600Hz sub-field drive, the new displays output alternating images for the left and right eye.
The new VIERA models feature Neo Plasma technology, which boasts a dynamic contrast ratio of 5,000,000:1 delivering exceptionally deep, rich black levels that draw the viewer into the picture. This gives even more depth to the Full HD 3D images. The TVs also use a new louver filter that minimises glare and reflection from external light sources, so the picture is clear and vibrant even in bright viewing environments.
Panasonic VIERA Full HD 3D TV Models:
TH-P65VT20A
TH-P58VT20A
TH-P54VT20A
TH-P50VT20A
Panasonic precision 3D eyewear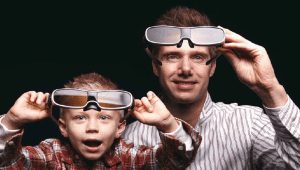 3D eyewear are key to the quality of your immersive viewing experience and we've come a long way from the red and blue cardboard specs we know from the past. The precision shutter control on the 3D eyewear is timed to open and close the right and left lenses in synchronisation with the alternating images to provide high-quality 3D viewing. This technology solves the problems of image deterioration and blurring that were common to conventional 3D methods, and brings theatre-quality images right into your living room.
One pair of 3D eyewear is supplied with each Full HD 3D TV. The eyewear can be easily adjusted to fit various face shapes and sizes, from children to adults. The eyewear is also designed to be worn comfortably over ordinary prescription glasses and has durable hinging.
3D Blu-ray Disc Players
Panasonic's new Full HD 3D Blu-ray Player, the DMP-BDT300, utilises groundbreaking technologies incorporated in Panasonic's proprietary UniPhier LSI chip, enabling the player to flawlessly process the large quantity of visual information necessary to create a Full HD 3D image in 1920 x 1080 resolution. Adaptive Chroma Upsampling ensures that colors will be faithfully reproduced; and all native digital DVD formats are up-scaled to 1080p resolution quality.
The Full HD 3D Blu-ray Player incorporates all the features expected in a high-end product, including VIERA CAST and DLNA; as well as Dolby® True HD and DTS™ HD audio formats. Digital images and HD video can be easily viewed via the player's SD Memory Card slot. And VIERA Link enables all compatible Panasonic audio and video products to be controlled with one remote.
The DMP-BDT300 offers Twin HDMI outputs. One output can be dedicated as an Audio signal output, offering better sound quality and matching the needs of users who own customised cinema systems and audio equipment.
3D compatible wireless home theatre
The SC-ZT2 Wireless Home Theatre can transmit Full HD 3D signals from the Full HD 3D Blu-ray Player to the Full HD 3D TV. The SC-ZT2 requires no speaker cables to connect the speakers to the main unit – so home theatre enthusiasts can arrange speakers freely throughout a room without worrying about unsightly cables crossing the floor.
Full HD 3D Camcorder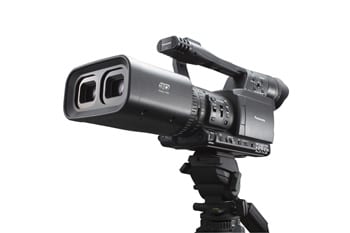 Completing Panasonic's 3D solution offer is the AG-3DA1 professional-quality, Full HD 3D camcorder. Panasonic 3D camcorder technology has already been used in major Hollywood films such as AVATAR and with the AG-3DA1 setup and transportation is simplified, making it ideal for 3D documentary and lifestyle filmmaking projects, live event recording and sports.
The lenses, camera head, and a dual Memory Card recorder are integrated into a single, lightweight body and the AG-3DA1 offers SD Memory Card recording.