-promotion now closed-
– Only Bonus Wii Pack promotion remains –
Today, Panasonic Australia announced the re-launch of its highly successful Bonus Wii Promotion, with the added value of exciting games. The Bonus Wii Pack promotion will run concurrently with the incredibly successful VIERA Bonus HD promotion, which has already received claims for over three quarters of the bonus gifts.
Due to the overwhelming demand, from 1 December, Panasonic will offer an additional promotional bonus offer of a Wii Bonus Pack including Wii console, Avatar game and Wii Mario Kart with steering wheel, valued at $578.90 RRP when consumers purchase any VIERA Full HD Plasma TV.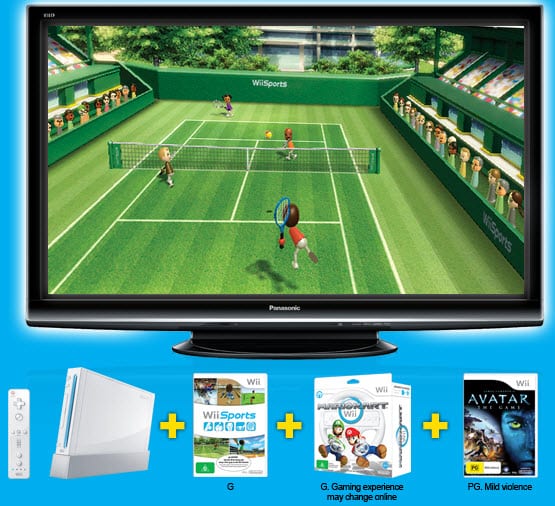 The Bonus Wii offer ends on 24 December, 2009, extended to 31st January, 2010 so consumers should hurry to ensure they don't miss out. Visit panasonic.com.au/christmasbonus for details.
Thanks to this great new promotion, consumers who have not yet purchased their Panasonic VIERA Full High Definition Plasma TV for the summer can enjoy the Bonus Wii Pack valued at $578.90 RRP.
Paul Reid, Director, Consumer Electronics Group, Panasonic Australia said;
"The response to the VIERA Bonus HD Christmas promotion has exceeded all expectations. With the choice of two great offers – including the new Bonus Wii Promotion featuring the popular Wii pack, or the Bonus HD offer of a go-anywhere LUMIX FT1 camera – there's something for everyone this Christmas."
According to Reid, the Wii Bonus Pack and the LUMIX FT1 Camera pack offer consumers an excellent choice to complement any lifestyle. The LUMIX FT1 is ideal for active families looking for the ultimate hybrid to capture both still and motion images in any shooting environment. The Wii pack is sure to bring the family together with the most physically interactive gaming experience.
To claim your Bonus Wii pack, visit panasonic.com.au/christmasbonus
To claim your Bonus HD Tough LUMIX FT1 Camera pack, visit panasonic.com.au/bonushd now, or SMS 'BONUS' to 0429 826 687 to find out how many bonus LUMIX FT1 camera gifts remain.
Postage charge
Bonus HD Promotion: Customers will be charged $17.50 to cover postage and fulfilment upon submitting their claim.
Bonus Wii Pack Promotion: Customers will be charged $30 to cover postage and fulfilment upon submitting their claim.
Click here for Bonus Wii promotion Terms & Conditions or here for the Bonus HD promotion.