Panasonic Previews Most Innovative Cordless Phone to Date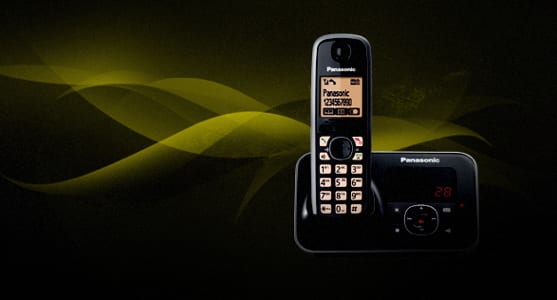 Panasonic Australia, the global leader in home communications, today previewed the innovative 803 Series Premium DECT Cordless Phone, scheduled for release in 2012.
The 803 Series, which will be available in the KX-TG8032ALB twin pack and the KX-TG8033ALB triple pack, features the new Location Free Range Extending Repeater to conveniently extend the phone's operating range. When installed in the home, the Repeater Station will retransmit the signal to extend the range distance.
The 803 Series also boasts innovative Power Failure Talk System technology, allowing users to make and receive calls even during a blackout by simply placing a handset on the base to provide power and using an additional handset to make and receive calls.
Charissa Sano, Product Manager – Home Communications, Panasonic Australia, said: "Panasonic is proud to be a leader in the home communications category and we are pleased to offer our Australian consumers a cordless phone that combines innovative features with a sleek and stylish design that truly meets their unique needs."
"Recent research has told us that Australians are looking for a home communication device that offers security and comfort, as well as stylish design and a comprehensive feature set . In fact, the cordless phones market in Australia has grown over the past 12 months ," said Mrs Sano.
The 803 Series also features an industry-first high-resolution 1.45-inch full colour TFT LCD with high contrast and a wider viewing angle for easy viewing. This range also features a sleek and stylish design with a piano black finish.
Other convenient features include Panasonic's unique Equaliser Optimisation technology that allows users to adjust the bass and treble via the menu to the pitch that is most comfortable for them when receiving calls. Long Range Clear Sound error correction technology ensures smooth, clearer conversations with fewer interruptions. The 803 Series also features a digital answering machine.
Key Features:
803 Premium DECT Cordless Phone Series
• 1.45-inch full colour TFT LCD
• Answering machine with message counter:18 minutes
• Handsfree speaker phone on handset
• Handset locator
• Expandable up to six handsets
• Night Mode (Disables ringtone during the night)
• Call waiting Caller ID/ Incoming Call Barring
• 200 name and number phonebook
• Phonebook copy (Handset to Handset)
• Polyphonic ringer on handset: 30 melodies/10 tones
• 10-redial memory (name and number)
• Conference call with outside line (up to between 2 handsets)
• Call share (barge in)
• Intercom (Handset to Handset)
• Gap compatible
• Any key answer
• Clock and alarm
• Multiple language display
• Ringer LED on handset
• Beltclip(s) included
• Headset Jack (Headset not included)
• Wall mountable Base and Charger Unit
Pricing for the new 803 Series will be announced closer to the release date. Panasonic cordless phones are available from leading consumer electronics retailers. For more information, contact Panasonic on 132 600 or visit www.panasonic.com.au.