On October 3rd, 2011 the longest 28-days of Rommy Gulla's life begins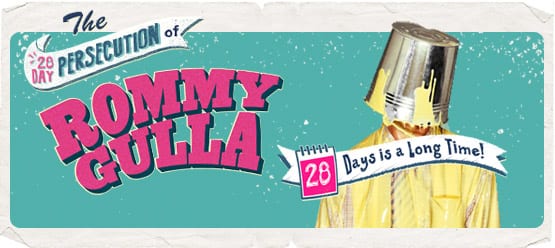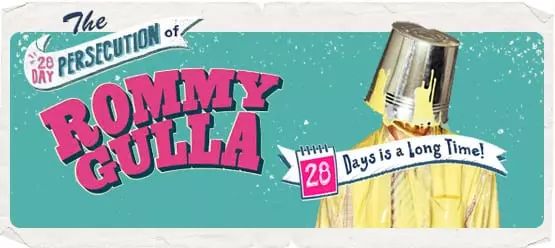 To celebrate the incredible ability of the new Panasonic BWT800 3D Blu-ray Disc Recorder to store a full 28 days of Full-HD* content, we're endeavouring to demonstrate just how long 28 days really can be. And how are we going to do that? By making the next 28 days of a young man called Rommy Gulla's life, the longest, most annoying 28 days he'll ever experience of course.
Rommy Gulla has agreed to be pranked and challenged on a daily basis. Watch the video below to meet Rommy and head to the Panasonic Facebook page to see him pushed to the limit while we film the results. His job? Well, his job is simply to survive.
Watch & Win fabulous prizes!
Twice a week on the days that are in bold in the calendar at the top of the Rommy Gulla Facebook application, you can enter the Watch & Win competition to be in the running for weekly prizes and a super supreme grand prize.
To enter, simply watch the video on the nominated days – cringe at Rommy's merciless persecution – then answer the multiple choice question underneath the video.
Get both answers right in a given week (there's two new persecution questions each week for the four weeks of the persecution) and you'll go into the weekly draw. Each week we're giving away a Panasonic BWT800 Blu-ray Disk Recorder. That's right – the one with 28 days of HD* recording capacity!!
Get all 8 answers right over the 28 days, and you'll also go into the draw for a fantastic Full-HD 3D Home Entertainment Package!!
We need your help!
We need your help in coming up with diabolically fiendish prank ideas to help persecute Rommy.
Great! But how does it work you ask? Well, you suggest a persecution, then get your friends to promote it up the list. If it's something we can do, it'll get stamped "Good One!" and if it's super popular (i.e. gets promoted right to the top of the list) we'll simply pinch your idea and use it ourselves to make Rommys life hell (Don't worry, you'll probably get full credit).
The persecutions starts on Monday, so head to the Panasonic Facebook page, meet Rommy and start thinking of how you're going to persecute the little guy.
Where can you find Rommy Gulla?