Panasonic Award Winning Plasma TVs Now Even Smarter
Continuing its tradition of producing award winning Plasma televisions, Panasonic has launched its 2012 Smart VIERA Plasma TV range. The line-up of 10 new models defines the very best in outstanding TV technology, with enhancements to picture quality, easy operation, networking, ecological features, and design.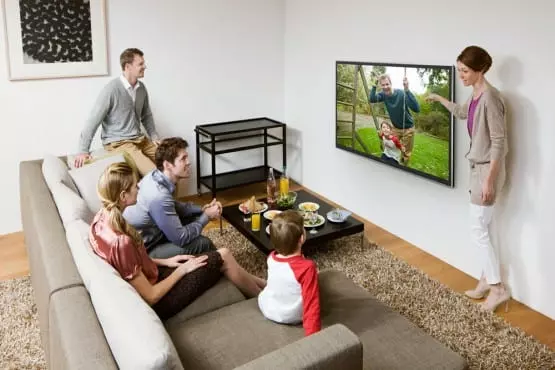 The new range – the VIERA VT50, ST50, UT50, XT50 and U50 Series – includes eight Full HD 3D models, one HD 3D model and one Full HD 2D model. The models range in size from 65 inches to 50 inches. The design of this year's VIERA Plasma range is clean and simple, with most models incorporating a glass design concept for an elegant theme.
Panasonic's iOS and Android-based apps allow you to use your Smartphone or tablet with your VIERA TV. In addition, the VT50 Series is supplied with the cutting edge VIERA Touch Pad Controller allowing users to easily browse the web and other applications with the flick of a thumb.
The 2012 models enhance Panasonic's commitment to its Internet platform, VIERA Connect™. Building on Panasonic's cloud-based architecture, VIERA Connect allows an almost infinite number of apps. New content providers include BigPond Movies, which offers a library of 4,000 titles on demand. Quickflix has also been added, offering unlimited streaming of movies and TV shows directly to your TV. These join the already popular social networking sites as well as ABC iView, Yahoo!7's PLUS7, videos, music and interactive games.
–

–
Key Features
The top of the range Neo Plasma VT50 Series and ST50 Series feature Panasonic's specially engineered Neo Plasma panels with 2500Hz focused field drive to provide the best moving picture quality.
Thanks to Infinite Black Ultra on Panasonic's VT50 Series, it offers an even more intense viewing experience with blacker blacks. Furthermore, with an amazing 24,576 steps of gradation on this Series you can enjoy subtle brightness variations, rich colours and precisely rendered contrasts, especially in dark scenes.
Sound quality is improved on the VT50 and ST50 Series, which offer revolutionary 3D real sound with 8-Train speakers, making the in-home 3D viewing experience even more enjoyable. Panasonic also continues its relationship with THX, offering THX video standard certification in both 2D and 3D mode on its Full HD 3D VT50 Series Plasma TVs, meeting the stringent standards of Hollywood's top film makers.
Sharing content around the home has never been easier, thanks to DLNA capability and Wi-Fi which allows VIERA TVs to 'communicate' with other devices around the home – for example, users can wirelessly stream multimedia stored on a DLNA-compatible server such as a PC or Blu-ray Disc Recorder to their TV. New for 2012, the VT50 Series can now also operate as a DLNA server, allowing content to be streamed from a storage device attached to the TV to other DLNA-compatible devices including a tablet, Smartphone or another TV.
With the new Smart VIERA Remote App Version 2.0, viewers can tap and flick content such as movies, images and music stored on their Smartphone or tablet directly to their VIERA TV. The Media Player feature allows users to view digital photos and HD video recorded on a SD Memory Card and USB HDD directly on their TV.
Users can also record their favourite TV shows using an external hard drive or SD Memory Card on the VT50, ST50, UT50 and XT50 Series. The USB HDD Recording function supports a host of convenient features such as Timer Recording from the Electronic Program Guide, Direct TV Recording and Pause Live TV.
In addition, Panasonic continues its commitment to the environment with mercury-and lead-free panels. Eco Mode is available on all models which adjusts screen brightness to reduce power consumption and turns the power off when there is no activity or signal.
Panasonic has also introduced its latest generation of lightweight 3D glasses. Weighing only 27 grams, they utilise Bluetooth technology and feature a rechargeable battery.
Features
Model
Star

Rating

Availability
RRP
VT50 Series – Full-HD 3D Neo Plasma

Picture quality

Active Shutter Progressive Full HD 3D
Neo Plasma Panel – Infinite Black Ultra
6,000,000:1 Dynamic Contrast
2500Hz Focussed Field Drive
24,576 Equivalent Steps of Gradation
Web Smoother
THX® 3D Certified Display
ISFccc Calibration Mode with Advanced Calibration

Easy operation

VIERA Remote App Support
VIERA Touch Pad Controller included
Multitasking

Networking

VIERA Connect
Web browser with Adobe Flash Player
Wi-Fi built-in
DLNA / digital media player, recorder, server
SD / USB HDD recording
Media player: AVCHD 3D/Progressive, SD-VIDEO/Motion JPEG (LUMIX)/ DivXPlusHD/ WMV/ MKV/ AVI/ MP4/ MOV/ M4v/ FLV/ 3GPP/ VRO/ VOB/ TS/ PS, MP3/AAC/WMA/FLAC, JPEG/MPO
VIERA Link
4 x HDMI (side) / 3 x USB ports

Eco

Mercury and lead free panel
Smart energy-saving functions
Eco navigation

Design and other features

One sheet of glass design
1 x Eyewear & 1 x VIERA Touch Pad Controller supplied

TH-P65VT50A

65 inches

TBC
June
$5,999
TH-P55VT50A

55 inches

TBC
June
$3,799
ST50 Series – Full-HD 3D Neo Plasma

Picture quality

Active Shutter Progressive Full HD 3D
Neo Plasma Panel – Infinite Black Pro
5,500,000:1 Dynamic Contrast
2500Hz Focussed Field Drive
12,288 Equivalent Steps of Gradation
Web Smoother

Easy operation

Networking

VIERA Connect
Web browser
Wi-Fi built-in
DLNA / digital media player, recorder
SD / USB HDD recording
Media player: AVCHD 3D/Progressive, SD-VIDEO/Motion JPEG (LUMIX)/ DivXPlusHD/WMV/ MKV/ AVI/ MP4/ MOV/ M4v/ FLV/ 3GPP/ VRO/ VOB/ TS/ PS, MP3/AAC/WMA/FLAC, JPEG/MPO
VIERA Link
3 x HDMI (side) / 2 x USB ports

Eco

Mercury and lead free panel
Smart energy-saving functions
Eco navigation

Design and other features

Crystal frame
1 x Eyewear supplied

TH-P65ST50A

65 inches

TBC
June
$3,999
TH-P60ST50A

60 inches

6
May
$2,799
TH-P50ST50A

50-inches

5.5
April
$1,749
UT50 Series – Full-HD 3D Plasma

Picture quality

Active Shutter Progressive Full HD 3D
Plasma Panel with tough panel
2500Hz Focussed Field Drive
6,144 Equivalent Steps of Gradation
Web Smoother

Easy operation

Networking

VIERA Connect
Web browser
Wi-Fi capable with optional dongle
DLNA / digital media player, recorder
SD / USB HDD recording
Media player: AVCHD 3D/Progressive, SD-VIDEO/Motion JPEG (LUMIX)/ DivXPlusHD/WMV/ MKV/ AVI/ MP4/ MOV/ M4v/ FLV/ 3GPP/ VRO /VOB/ TS/ PS, MP3/AAC/WMA/FLAC, JPEG/MPO
VIERA Link
2 x HDMI (rear) / 2 x USB ports

Eco

Mercury and lead free panel
Smart energy-saving functions
Eco navigation

Design and other features

Optional Wi-Fi dongle #TY-WL20A
1 x Eyewear supplied

TH-P60UT50A

60 inches

TBC
June
$2,499
TH-P55UT50A

55 inches

5.5
May
$1,999
TH-P50UT50A

50 inches

5.5
April
$1,399
XT50 Series – HD 3D Plasma

Picture quality

Active Shutter Progressive HD 3D / 2D
Plasma Panel with Tough Panel
600Hz Sub-field Drive
6,144 Equivalent Steps of Gradation
Web Smoother

Easy operation

Networking

VIERA Connect
Web browser
Wi-Fi capable with optional dongle
DLNA / digital media player, recorder
SD / USB HDD recording
Media player: AVCHD 3D/Progressive, SD-VIDEO/Motion JPEG (LUMIX)/ DivXPlusHD/WMV/ MKV/ AVI/ MP4/ MOV/ M4v/ FLV/ 3GPP/ VRO/ VOB/ TS/ PS, MP3/AAC/WMA/FLAC, JPEG/MPO
VIERA Link
2 x HDMI (rear) / 2 x USB ports

Eco

Mercury and lead free panel
Smart energy-saving functions
Eco navigation

Design and other features

Optional Wi-Fi dongle #TY-WL20A
1 x Eyewear supplied

TH-P50XT50A

50 inches

6
April
$1,199
U50 Series – Full HD Plasma Panel

Picture quality

Progressive Full HD
Plasma Panel with Tough Panel
600Hz Sub-field Drive
6,144 Equivalent Steps of Gradation

Networking

Wi-Fi capable with optional dongle
DLNA / digital media player
Media player: AVCHD/SD-VIDEO/Motion JPEG (LUMIX)/MP4/ DivX HD/ WMV/ MKV/ AVI, MP3/AAC/ WMA, JPEG
VIERA Link
2 x HDMI (rear) / 1 x USB ports

Eco

Mercury and lead free panel
Smart energy-saving functions
Eco navigation

Design and other features

Optional Wi-Fi dongle #TY-WL20A

TH-P50U50A

50 inches

TBC
June
$1,299