Panasonic unveils its first LED LCD VIERA TVs as a part of a 14-strong LCD lineup
Five LED LCD models and nine LCD models were launched at the Panasonic AV launch in Melbourne this month, the most extensive LCD lineup the company has ever launched in Australia. The sizes range from 22 inches to 42 inches and represent an exciting new stage in the evolution of VIERA technology.
httpv://www.youtube.com/watch?v=R2L98-c69TM
Key features on the flagship D25 IPS LED LCD Series in this new VIERA range include In-Plane Switching (IPS) panels, which deliver an ultra-wide viewing angle, plus 2,000,000:1 dynamic contrast and high moving-picture resolution for crisp, clear motion images. Clever connectivity features include VIERA CAST™ with Skype™ functionality and Wi-Fi and DLNA® capability, plus new USB HDD recording and playback.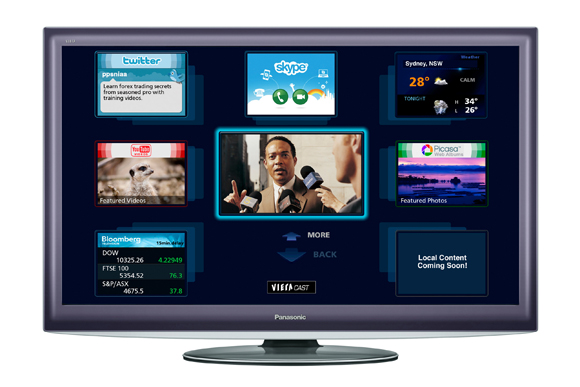 IPS Advantage
The IPS (In-Plane Switching) LCD panel offers a wide 178° viewing angle, ensuring colours appear uniform and consistent even when viewed from a wide angle, so images look fresh and natural no matter where the viewer is sitting. An IPS panel with a high aperture ratio and a bright LED backlight combine to ensure that even tiny lights in dark scenes – such as stars in the night sky – are clear and sharp. This helps render beautiful images with enhanced depth and crisp blacks while reducing power consumption and allowing a slim product design.
Enhanced Connectivity
The VIERA D25 Series IPS LED LCD TVs and S25 Series Premium Full-HD IPS LCD TVs are Wi-Fi capable and feature VIERA CAST online entertainment in the loungeroom that includes Skype voice and video calling capability from July 2010.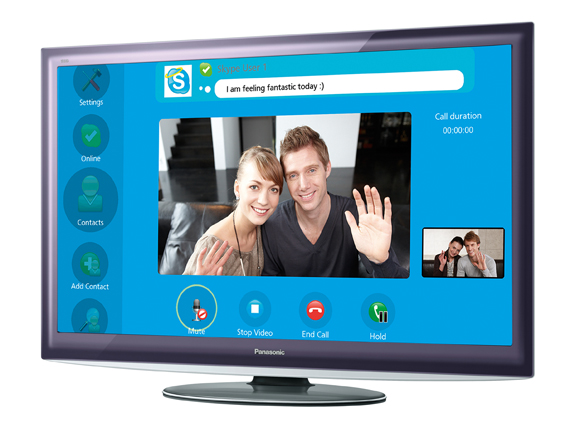 VIERA CAST functionality continues to evolve. Panasonic today announced an agreement with Yahoo!7 to deliver a selection of its content via VIERA CAST. Viewers will be able to watch full-length episodes from Yahoo!7's PLUS7 service, including some of Australia's favourite Channel Seven shows, streamed over the Internet to selected VIERA Plasma, LED LCD and LCD televisions. PLUS7 delivered by Yahoo!7 will be available for VIERA CAST later this year. Panasonic also plans to introduce the Twitter micro-blogging service to VIERA CAST in the future.
DLNA-networking lets you stream content to your VIERA TV that is stored on other DLNA-enabled products in your home network, such as Panasonic's 2010 Blu-ray Recorders and DVD Recorders. These Series also offer USB HDD recording and playback.
The X25 LCD Series boasts a Universal Dock for iPod that is also compatible with iPhone, enabling playback of audio and video files via your TV using your VIERA remote control.
All models offer VIERA Image Viewer- with an SD Card slot for viewing your favourite AVCHD videos and JPEG images, and VIERA Link allows users to operate all compatible Panasonic A/V components using only the TV's remote control.
Models, Release Dates and Pricing
14 models are set to be released in Australia and to accommodate the expanded LCD product range and to increase the company's presence in the LCD market, Panasonic this month commenced operation of a new LCD factory in Himeji, Japan.
Click on the individual models below to view each TVs features and specifications.
D25 Series – IPS LED LCD
TH-L42D25A – Available in June 2010 RRP $2,499
TH-L37D25A – Available in June 2010 RRP $1,999
TH-L32D25A – Available in June 2010 RRP $1,699
D20 Series – IPS LED LCD
TH-L42D20A – Available September RRP to be announced
TH-L32D20A – Available September RRP to be announced
S25 Series – Premium Full-HD IPS LCD
TH-L37S25A – Available in July 2010 RRP $1,399
TH-L32S25A – Available in May 2010 RRP $1,199
U20 Series – Full-HD IPS LCD
TH-L42U20A – Available in June 2010 RRp $1,299
TH-L37U20A – Available in May 2010 RRP $1,099
TH-L32U20A – Available in April 2010 RRP $899
X25 Series – High Definition LCD with iPod Dock
TH-L32X25A – Available in July 2010 RRP to be announced
Visit our brand new VIErA website and product selector!
To help showcase Panasonic's extensive range of 2010 TV models we've created a new VIErA website. View the products in details and use our dedicated product selector to find the right TV suited for your needs.