Purchase a Full-HD Panasonic camcorder for your one-in-five chance to win a VIERA TV.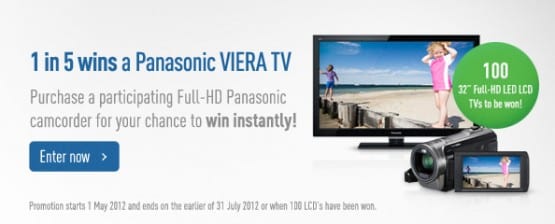 By purchasing a Panasonic 3MOS HC-X900M camcorder or a HC-V700 or HC-V500M 1MOS camcorder, you could instantly win a 32-inch VIERA Full High Definition LED LCD TV valued at $799. What's more, there are 100 TVs to be won.
"Image quality is top of mind when Australian consumers buy a camcorder," said Doug Campbell, Product Marketing Manager Camcorder, Panasonic Australia.
He continued, "Now they get the chance to make their high-definition purchase even more enjoyable. Shoot FHD footage on your camcorder, and then put your SD card directly into the VIERA TV's SD card slot to share these great memories with friends and family."
The promotion commenced on May 1, 2012 and closes on July 31, 2012 or once 100 prizes have been awarded.
To enter, simply visit the Panasonic website here, follow the prompts to the competition entry page, and input the requested details. One in every five online entries will be awarded a VIERA TV, up to the total of 100 prizes.
Panasonic's range of 3MOS and 1MOS camcorders offers a solution for every consumer. The HC-X900M Full HD camcorder features Panasonic's 3MOS System Pro next-generation imaging system and is designed for the enthusiast videographer who wants to capture truly stunning images in full HD.
Panasonic's Full HD 1MOS camcorders, the HC-V700 and HC-V500M, record exceptionally high-quality footage in a variety of shooting situations, backed by the company's powerful new Hybrid OIS+ optical image stabilisation system, and are perfect for capturing smooth, fast-moving action.
For more information on camcorders, go here. And for more information and full terms and conditions regarding the promotion, go here.