Claim up to $200 off energy bills this winter with a select Panasonic Air Conditioner.
Panasonic are helping keep you warm this winter by allowing you to claim up to $200 off your power bill with the purchase of selected Panasonic Air Conditioners.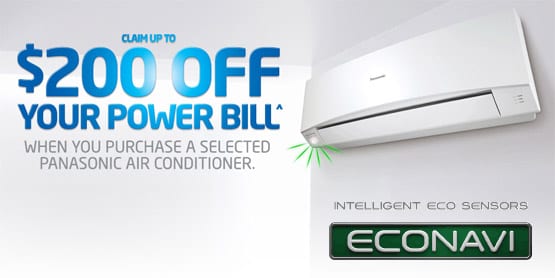 The promotion commenced on May 1, 2012 and finishes on August 31, 2012, or when 17,000 claims are received. To participate, you must provide energy account details and ensure claims are received via mail within 21 calendar days of purchase. The offer covers all energy providers.
"Panasonic is helping consumers this winter by reducing their power bill and offering an incentive to stay warm over the colder months," said Shane Quinn, Product Marketing Manager, Air Conditioning, Panasonic Australia.
The current range of Panasonic Air Conditioners feature the innovative ECONAVI sensor, which uses smart technology, such as area search, absence detection and low activity detection to moderate the temperature according to room usage, and deliver up to a 30 per cent energy saving while cooling and up to 40 per cent while heating.
In addition to ECONAVI, Panasonic's Inverter system makes constant adjustments to provide optimum performance at all times. This extremely precise operation enables quick cooling when needed, while reducing power consumption compared to conventional non-Inverter units.
For more information, promotional terms and conditions, or to make a claim, contact Panasonic on 1300 769 710 or visit www.panasonic.com.au/bonus