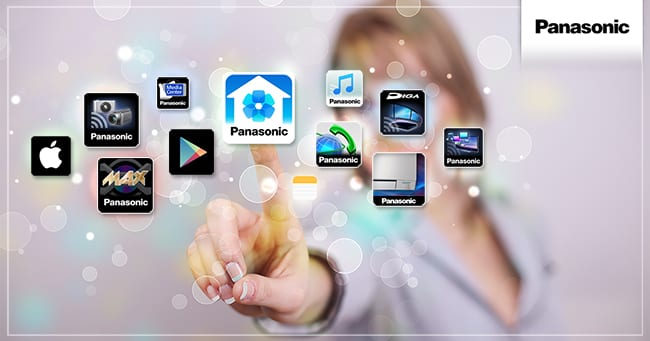 With smartphones and tablets so deeply integrated into the fabric of our lives, we are always looking for clever ways to take our technology to the next level. You'll be happy to know that many of Panasonic's latest products are compatible with ingenious apps designed to help you get more out of your products – and you can download them for free to your smart device. Check the list below to match your latest Panasonic purchase with its must-have app.
---
Connected Home and the Home Network System App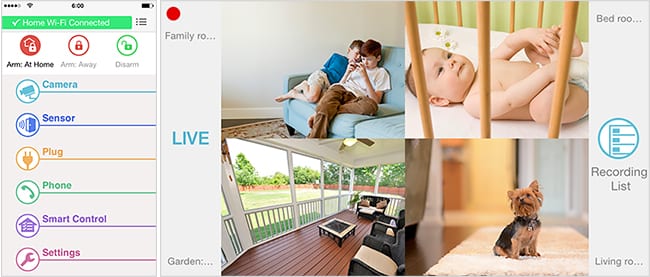 Our DIY Connected Home monitoring and automation makes it easy for you to create a powerful, wireless network of cameras, sensors and controllers in and outside the home – and then control it all from your smartphone and tablet with this one simple app.
---
VIERA TVs and Recorders with TV Anywhere / TV Anytime via the Panasonic Media Center App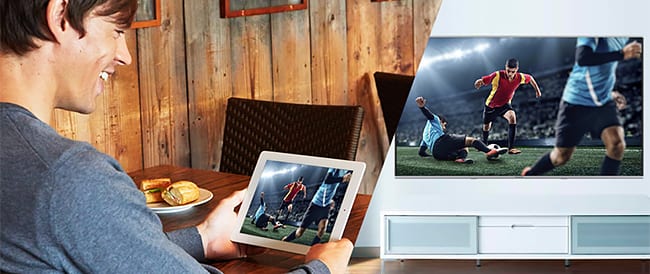 Download the Panasonic Media Centre app and you can enjoy your favourite TV shows on your own schedule using the TV Anywhere/TV Anytime function on your Panasonic VIERA or Blu-ray recorder*. It lets you watch live or recorded TV programs on your smartphone or tablet while you're away from home, and in addition to watching, you can also set timer recordings for TV programs from outside wherever you are. Simply install the Panasonic Media Center App in your smartphone or tablet for convenient, easy operation of the TV Anywhere, TV Anytime function, and watch the content you want anywhere you please, from anywhere in the world.
Download the Panasonic Media Center App:
Read more: How to set up TV Anywhere/TV Anytime with the Panasonic Media Center App 
*Compatible models (sold separately): Panasonic Blu-ray recorders launched in 2014 year's autumn or later. Panasonic TV launched in 2015 year or later.
---
VIERA TVs and the Panasonic TV Remote 2 App
TV Remote 2 app lets you comfortably operate Panasonic VIERA TV with your mobile device. You can load a QWERTY keyboard to browse the web in a much easier way than using the remote control, utilise the Swipe & Share feature and also control all the aspects of the TV's menus and controls using a touch screen device. There is also a game pad, so if you are downloading games, you can play as a controller through your device as well. The latest VIERA models can even stream live TV or recorded TV from a connected USB hard drive to your mobile device on Wi-Fi, inside or outside your home, or cellular date thru the TV Anytime function. On selected models you also have the Remote Sharing feature, giving you access to send messages (text or video) to registered user of your TV at home.
Download the TV Remote 2 app:
*2011/2012/2013/2014 VIERA models
---
LUMIX cameras/camcorders and the Panasonic Image App
The Panasonic Image App lets you control your camera or camcorder* through your mobile device to take pictures, record video and even control settings like zoom. In addition, the remote control functionality can help you use the Baby Monitor setting on the new camcorder range to keep an eye on the little ones even if you're not in the same room.
Download the Panasonic Image App:
Read more: We've worked out how to make our cameras and camcorders even smarter.
*Available with Wi-Fi compatible models.
---
Audio systems and the Panasonic Music Streaming App
The Panasonic Music Streaming App makes it easy for you to share your music on the devices* in your home. As long as your speakers are equipped with DLNA, Bluetooth or Airplay, the app identifies them and chooses the best way to share music taking all the hassle out of it and leaving you to enjoy your music.
Download the Panasonic Music Streaming App:
*AirPlay supported device, Bluetooth supported audio device, DLNA supported audio device, Qualcomm AllPlay supported device.
---
Audio systems and the Panasonic MAX Juke App
The Panasonic MAX JUKE App* lets you play songs stored on your smart devices via Bluetooth, request and play songs from the internal or USB memory on mini systems and even share the request playlist with your friends at the same time.
Download the Panasonic MAX Juke App:
Read more: Get the party started (and keep it going all night) with Panasonic MAX.
*MAX770, AKX58 and AKX18. 
---
Blu-ray recorders and the Panasonic DIGA Player App
DIGA Player brings your TV life style one more step ahead through Panasonic Recorders. You can enjoy your favorite TV programs anywhere at home and set timer recording from outside with your iPhone/iPad/iPod touch. DIGA Player will browse and load recorded list and TV channel list from your Panasonic Recorders onto your smart device connecting over Wireless LAN network. On selected models, you can stream Live TV or recorded content from the HDD to your mobile device within your Wi-Fi network, turning your device into a second screen.
Download the Panasonic DIGA Player App:
Read more: Go your own way with remote recording.
*Remote recording is available on selected Panasonic compatible recorders. For more detail, please refer to support page of DIGA Player application.
---
Cordless phones and the Panasonic Smartphone Connect App
Smartphone Connect turns your smartphone into an extension of your Panasonic cordless home phone*. You can use Smartphone Connect to make and receive landline calls with your smartphone, copy data from your smartphone to your phone system and more.
Download the Panasonic Smartphone Connect AApp:
*KX-PRW110/PRW120/PRW130