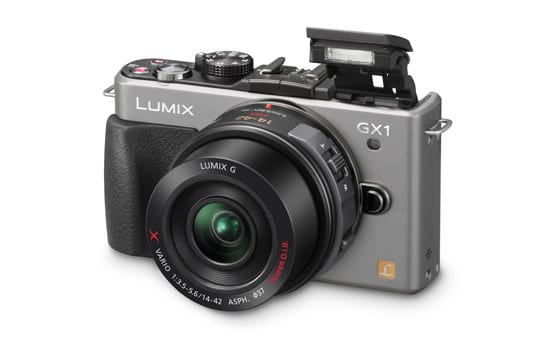 Panasonic Australia has announced the latest addition to its LUMIX G Micro System range – the premium compact DMC-GX1. This newest Micro Four Thirds camera is expected to have significant appeal to enthusiasts, offering all the key benefits in function and form that have been realised through the continually evolving G Series range.
Alistair Robins, Group Marketing Manager, LUMIX, Panasonic Australia, said: "This is the camera that G Series followers have been waiting for. The first in the premium GX line, it excels in both its design and feature set. It offers the 16-megapixel Live MOS sensor introduced in the G3, and is available in silver and black with a stylish rangefinder design and carefully crafted body and dials."
"The DMC-GX1 has a built-in flash1, and a newly-developed optional Live View Finder. Enthusiasts will also appreciate features such as the ability to customise the camera by assigning their own personal settings; and 'Level Gauge' which displays the horizontal or vertical angle of view on-screen."
The design of the camera is particularly intuitive for the user, with commonly-used settings – from a selection of 25 – able to be assigned to either the two function buttons on the camera body or via two on-screen menu settings. 'Level Gauge' detects the horizontal/vertical angle of view while shooting and displays this on-screen, as well as sensing if the camera is tilted forwards or back. This is very useful in ensuring shots such as those of buildings and landscapes are straight, so they do not have to be edited later.
Alistair Robins added: "Zoom operation can be controlled with touch control when the LUMIX G X VARIO Power Zoom lens is attached; and zooming speed can be adjusted so you can zoom slowly when capturing video and faster when shooting stills. Other convenient features include being able to see the focal length on-screen, and the ability of the lens to automatically return to the focal length that was used before it was switched off."
The 16.0-megapixel Live MOS sensor and Venus Engine support high quality image rendering and significantly reduced noise. Shooting is fast and responsive with the Precision Contrast AF system in conjunction with Light Speed AF3 achieving a focus speed of around 0.09/second. Consecutive shooting is also improved to 4.2 fps4 in 16.0-megapixel full resolution using the mechanical shutter, and high-speed burst shooting at 20fps5 is available using the electronic shutter.
Photographers can enjoy high-quality, easy video shooting with 1920x 1080 Full HD AVCHD video recording.  Panasonic's advanced AF system with full-time AF and tracking AF is also available so that every photographer can enjoy high quality video recording with ease.
The DMC-GX1 will be available in Australia in early 2012.  Pricing will be announced closer to the release date.
Kits available will be:
DMC-GX1 body only – Available in Black
DMC-GX1 with LUMIX G VARIO 14-42mm/F3.5-5.6 ASPH/MEGA OIS (H-FS14042E) – Available in Black
DMC-GX1 with LUMIX G X VARIO Power Zoom 14-42mm/F3.5-5.6
ASPH./POWER O.I.S (H-PS14042E) – Available in Black and Silver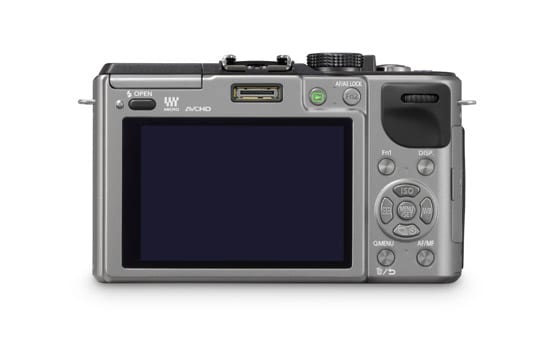 More information on the DMC-GX1
Attractive design and customised control
There has been no compromise on the external design of the DMC-GX1. The ergonomically designed grip is easy to hold and the camera body has been designed with high quality resins and elastomers, with finely machine-tooled dials and laser etched characters that look sophisticated and are designed for smooth operation and many years of reliability.
Operating the DMC-GX1 is smooth and easy, with an intuitive layout and dedicated function buttons. Frequently used settings can be assigned to 2 buttons on the camera body and 2 in the software tab for easy access. In addition, a total of 4 custom setting patterns can be saved on the camera, convenient if more than one person is using it.
'Level Gauge' detects the horizontal/vertical angle of view while shooting and displays this on-screen. Photos shot in portrait aspect will be automatically displayed vertically during capture and playback.
High image quality
The 16.0-megapixel Live MOS sensor supports high quality image rendering and significantly reduced noise.  Noise is suppressed by more than 66 percent and when shooting at high ISO settings, the S/N value is improved by around 200 percent compared with a conventional 12.1-megapixel sensor.  The sensor performance is improved by 6db at ISO 3200 and by a maximum of 9db at ISO 6400, resulting in flawless noise-free images.
The Venus Engine features exceptionally advanced signal processing capabilities in both photo and video recording, ensuring high quality image rendering with even higher clarity.  As a result, users capture sharp images, even in situations such as shooting at high ISO sensitivity levels, or in low light.
Advanced AF System
The DMC-GX1 offers a precise and fast Contrast AF system. Compared with Phase Difference AF, Contrast AF boasts higher accuracy especially when shooting with a bright lens at small F value (for example at F1.4 the accuracy of Contrast AF is approximately 90 per cent while Phase difference AF is approximately 60 per cent.
The DMC-GX1 features ultra-fast Light Speed AF of around 0.09/second, which reduces the detection time for focusing, with a drive speed of 120fps – an accuracy and speed that rivals the performance of high-end DSLRs.
The camera offers the intuitive touch-control shooting that is a hallmark of the G Series. Just touch the LCD to focus and lock on the subject and then follow it with AF Tracking. Other touch-control features include 1-area AF in Face Detection, Multi-area AF, Pinpoint AF, and Moveable MF Assist.
1920 x 1080 Full-HD high quality video recording
The AVCHD format features almost twice the recording time in HD quality compared to the conventional Motion JPEG.  The DMC-GX1 records in 1920 x 1080 / 50i AVCHD (sensor output is 25p)6.
Convenient iA (Intelligent Auto) and iA Plus features available in video recording include Optical Image Stabiliser7, AF Tracking, Face Detection, Intelligent D-Range Control and Intelligent Scene Selector.
The Touch AF in video recording also lets users enjoy professional-style rack focusing.
High quality sound can be recorded with Dolby Digital Stereo Creator. A Wind Cut function is also available to cut out most of the noise from background wind.  The camera can also take a photo while recording video just by pressing the shutter button.  Also, when editing, still frames can be created from a video and unwanted sections of a video can be removed with the Video Divide function.
Artistic colour control functions and iA (Intelligent Auto) Plus mode
The DMC-GX1 allows users to express their creativity with 'Creative Control', which adjusts exposure compensation in the frequently used colour modes of Expressive, Retro, High Key, Sepia, High Dynamic, Miniature Effect and newly added Low Key and Toy Effect modes.
'Photo Style' allows finer adjustment of contrast, sharpness, saturation and noise reduction for the Standard, Vivid, Natural, Monochrome, Scenery and Portrait presets.  Custom mode allows manual control of colour effects in these settings.
In iA mode, the camera does all the work, leaving the photographer free to capture key moments.  With the iA Plus mode, the defocusing area, exposure compensation and white balance can be adjusted in scenes where a slight manual adjustment may achieve a better result. Additional convenient iA features include AF Tracking, Face Recognition, Intelligent D-Range control, Intelligent Scene Selector and Intelligent ISO Control.
Other features
LUMIX G Micro System Cameras are equipped with a highly efficient Dust Reduction System. If dust or other foreign matter gets inside the camera when you're changing lenses, it could cling to the image sensor and show up as a spot in your photos. The Dust Reduction System in the DMC-GX1 helps eliminate this possibility by placing a supersonic wave filter in front of the Live MOS sensor. Vibrating vertically around 50,000 times per second, the filter repels dust and other particles effectively.