World's smallest 3D Photo and 3D Video Digital Compact Camera with 2-Lens system* and featuring 2D dual shooting capability
*As a digital compact zoom camera with 2-lens system, as of November 7, 2011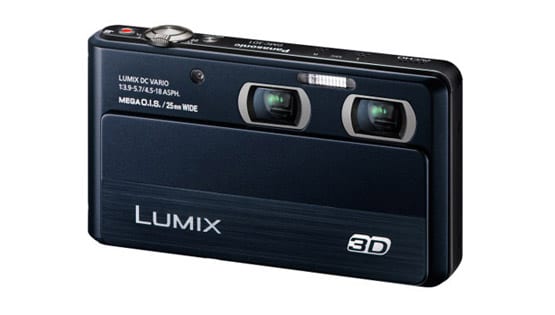 Panasonic is pleased to announce a new cutting-edge LUMIX digital compact camera offering 3D still image and 3D video shooting – the DMC-3D1 – which incorporates two newly developed lens units with folded optics in a stunningly compact body.
As well as shooting rich, expressive 3D content, the camera also offers 2D capture of 12-megapixel images and 1920 x 1080 Full HD movies. Operation is easily controlled with the dedicated 3D/2D switch and the 3.5-inch large Smart Touch screen. Macro shooting is also available.
Aki Yamamoto, LUMIX Product Manager, Panasonic Australia, said: "This new camera offers consumers some exciting benefits in both 3D and 2D shooting. Capture your own dynamic 3D stills and movies and watch them on your 3D TV.  Or, in 2D, shoot still images and a movie simultaneously using the two lenses – it is even possible to capture two separate angles of view at the same time."
The High Sensitivity MOS sensor and the Venus Engine ensure high quality image recording even at high ISO settings, and achieve high speed consecutive shooting at 8 fps in full resolution.
To increase the enjoyment of 3D viewing, shooting and playback, the 3D photos and movies taken can be easily viewed on a Panasonic VIERA 3D TV by simply inserting the SD card with 3D content into the TV's SD card slot or by connecting the camera to the TV with an HDMI cable.
The new DMC-3D1 will be available in Australia in 2012 with pricing to be announced closer to the release date.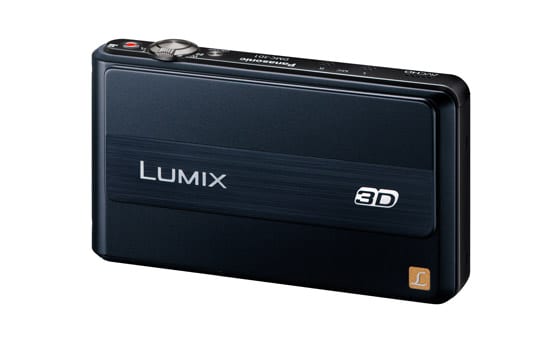 More information on the DMC-3D1
Innovative, compact design
The DMC-3D1 owes its slim, compact size to an innovative internal design. It incorporates two newly developed 25mm ultra wide angle lens units with 4x optical zoom (35mm camera equivalent: 25-100mm) using folded optics. The 25mm ultra-wide-angle lens gives photographers a wider range of composition possibilities with approximately 169 percent larger viewing scope compared to a 35mm camera.
Contributing to the compact form factor, the lens units – comprised of 11 elements in 10 groups with 5 aspherical lenses – are downsized in both length and diameter; and Panasonic has also introduced a new slim actuator for shutter and iris control and redesigned the O.I.S. lens.
2D Dual Shooting with 2-Lens system and intuitive touch operation
Most conventional cameras have limitations when it comes to capturing both still images and video simultaneously.
The DMC-3D1's 2-lens shooting gives photographers new freedom when shooting in 2D. Not only do the twin lenses mean you can capture photo and video at the same time without compromising on either, the user can also record different viewing angles. For example, you could make a movie recording of a party scene with one lens, and shoot a still close-up with the other lens; or alternatively, take two still images simultaneously.
It is easy to switch the lens between right and left – and control its zooming with the 3.5-inch large Smart Touch screen.
High Sensitivity MOS Sensor and Venus Engine for high image quality
The 12-megapixel High Sensitivity MOS sensor and the Venus Engine excel in image processing in both sensitivity and speed. Multi-process Noise Reduction effectively reduces noise for the best possible picture, even in low-lit conditions. The clever technology works to suppress both high frequency noise in the darker areas of an image and low frequency noise in the lighter areas, resulting in dramatically clear images.
'Intelligent Handheld Nightshot' combines a series of consecutive shots so that beautiful atmospheric night shots can be created without the use of a tripod.
The Venus Engine has quad-CPUs for processing large amounts of 1920 x 1080 full HD data at high speed in AVCHD and MP41. In addition, the DMC-3D1 boasts fast consecutive shooting at 8 fps (without auto focusing) and 4 fps (with auto focusing) in full resolution. Although the DMC-3D1 has 2 sets of lens units and sensors, the Venus Engine minimises energy consumption so that battery life is as long as that of single lens compact digital cameras.
High quality sound can be recorded using the Stereo microphone and Dolby Digital Stereo Creator.
Additional Features
The camera offers iA (Intelligent Auto) features for intuitive control in 2D shooting – including MEGA O.I.S, AF Tracking, Intelligent Scene Selector, Face Recognition, Intelligent ISO Control, Intelligent Exposure and Intelligent Handheld Nightshot.
LUMIX Image Uploader allows easy, instant image and video sharing via social networking sites Facebook and YouTube with any PC.