Panasonic wowed Milan Design Week 2018, winning the Best Technology award with an art installation in the courtyard of the iconic De Brera Museum. Our immersive 'Air Inventions' encompassed a huge water-drop pavilion that showcased Panasonic's latest air-conditioning technology and offered visitors the chance to breathe the purest air in all of Milan.
Panasonic Design mark 100th anniversary with 'TRANSITIONS':
an immersive installation at Milan design week exploring the future of air quality.#PanasonicTransitions #PanasonicDesign #mdw18 #milandesignweek #milan #transitions #installation pic.twitter.com/QWC0NydpDO

— Panasonic Design (@DesignPanasonic) April 11, 2018
In addition, Panasonic's imaging, audio, and lighting technologies all combined to create a calming and welcome atmosphere away from the busy design fair environment. The concept was based on Panasonic's new creative philosophy of creating products and experiences that address more intangible elements of everyday life, such as wellbeing, feelings and experiences.
"In the era where diverse values co-exist, the roles of design are also dramatically changing. Panasonic have created an immersive installation at Milan Design Week called 'Air Inventions' born through our strong commitment to designing intangible experiences. Once you step inside this space, an oasis of calm greets you with the cleanest air in Milan created from our latest air purification techniques. You can't help but take a deep breath in."
– Shigeo Usui, Design Centre Director, Panasonic Appliances
Air Inventions by Panasonic Design
Panasonic 'Air Inventions' Wins Best Technology – Milano Design Award 2018
Panasonic 'Air Inventions' | Technology Spotlight
Click on any imaged to open the gallery.
A 20-metre diameter air dome in the shape of a giant water-drop was be installed in the courtyard of the venue – Pinacoteca di Brera. Inside, Panasonic set out to create "the most beautiful and clean space in Milan" by utilising  a combination of our proprietary technologies – nanoe X, our air purification ionisation technology, and 'silky fine mist', another proprietary technology which micronises water with high pressured air.
Inside the dome, visitors also experienced incredibly realistic 4K projection mapping achieved using our PT-RQ32K ultra-super brightness projector and our ET-D3LEF70 high performance/high resolution fisheye lens.
Panasonic air conditioners boast the most satisfied customers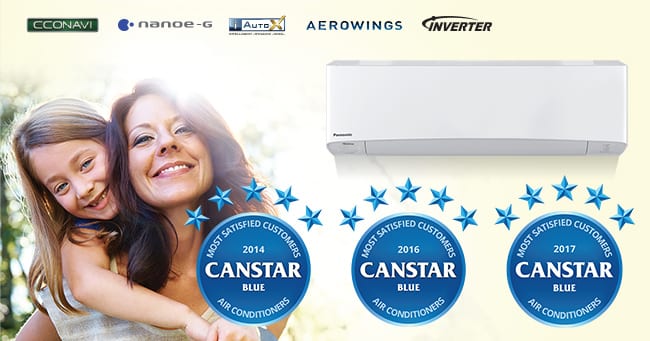 A trusted brand with Australian consumers, Panasonic recently topped the industry in the 2017 Canstar Blue customer satisfaction review for air conditioning, where customers are asked to rate their brand on a number of important variables, including ease of use, reliability, quietness and value for money. We're thrilled to say that Panasonic was the only brand to achieve top marks, rating five-stars for overall satisfaction for the second year in a row. In fact, Panasonic is the only air conditioning brand to have topped Canstar's ratings three times – in 2017, 2016 and 2014.
Panasonic Air Conditioner Range