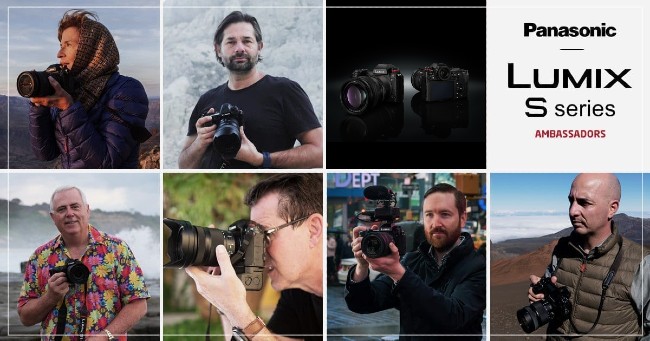 The S Series brings acclaimed LUMIX capabilities to full frame shooting. Impressive first-in-class features will expand the scope of the professional photographer – from Dual I.S 2 stabilisation to 187-megapixel High Resolution mode and Hybrid Log Gamma, multi-format dual memory card slots, and an OLED viewfinder with the world's highest resolution.
This brand new system takes LUMIX deeper into the professional world, and will have strong appeal to wedding and event photographers as well as studio and commercial professionals; and in other photographic fields that value the highest image quality possible.
Some of the biggest names in photography have already had a chance to shoot with the new LUMIX S Series cameras and lenses… We've collected their first impressions, along with stunning video footage and galleries, right here for you to enjoy.
Annie Griffiths x LUMIX S1R
One of the first women photographers to work for National Geographic, Annie Griffiths has photographed in nearly 150 countries during her illustrious career. She has worked on dozens of magazine and book projects for National Geographic, including stories on Lawrence of Arabia, Galilee, Petra, Sydney, New Zealand, and Jerusalem.
Shot with LUMIX S1R camera & LUMIX S 24-105mm F4 MACRO O.I.S. (S-R24105) lens
Daniel Berehulak x LUMIX S1
Daniel Berehulak is an Australian Independent photojournalist and regular contributor to The New York Times. His work strives to understand the lives of those affected by war, natural disasters and social injustice. Berehulak's photography has been recognised with two Pulitzer prizes, six World Press Photo awards, and three Visa d'Or awards.
Shot with LUMIX S1 camera & LUMIX S 24-105mm F4 MACRO O.I.S. (S-R24105) + LUMIX S PRO 50mm F1.4 (S-X50) lenses
Ken Duncan x LUMIX S1R
Multi award-winning photographer Ken Duncan is one of Australia's most gifted and prolific landscape photographers. In 2009 he was awarded a Medal Of The Order Of Australia (OAM) for his services to landscape photography, publishing and the arts, and since establishing his own publishing company in 1992, Duncan has published in excess of 50 photographic books, the majority of which still reprint year after year.
Shot with LUMIX S1 camera & LUMIX S 24-105mm F4 MACRO O.I.S. (S-R24105) lens
Griffin Hammond x LUMIX S1
Griffin Hammond is a documentary filmmaker in New York City, known for producing DIY filmmaking tutorials for indie filmmakers, and his award-winning documentary Sriracha. His 2016 coverage of the U.S. presidential election aired on Bloomberg Television and MSNBC, and he cohosts the weekly podcast, Hey Indie Filmmakers.
William Innes x LUMIX S1
After an exciting career running aerospace companies and a keen interest in all things photography related – a fluke request by his nephew to photograph his wedding propelled William Innes into an industry he continues to be passionate about today. William has been photographing weddings fulltime for over 12 years.
Shot with LUMIX S1 camera LUMIX S 24-105mm F4 MACRO O.I.S. (S-R24105) + LUMIX S PRO 50mm F1.4 (S-X50) lenses
Daimon Xanthopoulos x LUMIX S1
Since the year 2000, Daimon Xanthopoulos has dedicated himself to documenting stories he believes need to be told. Photography is a unique way to communicate because it's not bound by language, and this allows him to focus on social issues, injustice and human rights, as well as the plight of people, especially children, in the aftermath of conflict.
READ MORE
LUMIX S Series | Through the Eyes of Professionals
YOU MIGHT ALSO LIKE
LUMIX S hands-on events from 13 March – 10 May
Take a closer look at the LUMIX S Series
LUMIX S Series Full-Frame Cameras
LUMIX S Series Interchangeable Lenses