June Lumix Life GF1 Winner – 'Camels by the sunset' by Georgina Bowden.
Congratulations Georgina Bowden, the final winner of Lumix Life monthly prize and recipient of a brand new LUMIX GF1 camera for her photo entry in Lumix Life: Focus on Australia. Georgina's photo shot on a tough Lumix FT1 was judged to be the winner from thousands of entries by iconic Australian photographer Ken Duncan.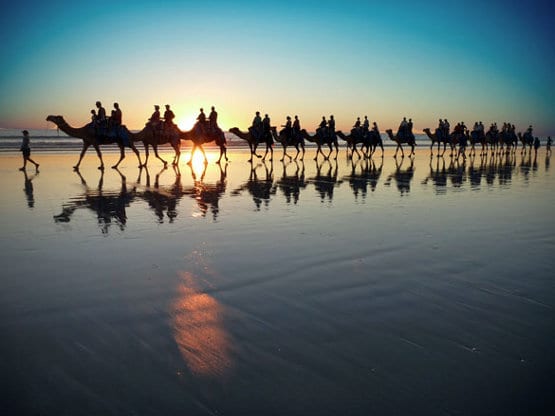 Location: Cable Beach, Broome, WA
Taken with a Lumix DMC-FT1 (exposure :1/200 sec, aperture : F3.3, iso: 125)
"The reason I picked this image attached is that it is very Australian. The Camel Ride at Cable Beach Broome has become a real must do or see for all Australians. The image was well taken and the reflections really make this shot work. Well done Georgina! You now have the great Lumix GF1 heading your way. Enjoy!"
Ken Duncan on the winning image
The LUMIX Life competition is now closed and winners announcement will be made on the offiicial site on the Monday the 9th August. Thank you to all the entrants who have embraced the opportunity to take on the big guns of Australian photography. The range of images submitted was truly inspiring. We most definitely reached the goal of covering this great country of ours. You can still view over 7000 outstanding entries in the photo galleries which are now in the running to be part of Focus on Australia, where professionals and amateurs alike will be published side-by-side in a stunning publication showcasing the heart of our great land. Ken Duncan and the judges now have their work cut out of them selecting the winning images.