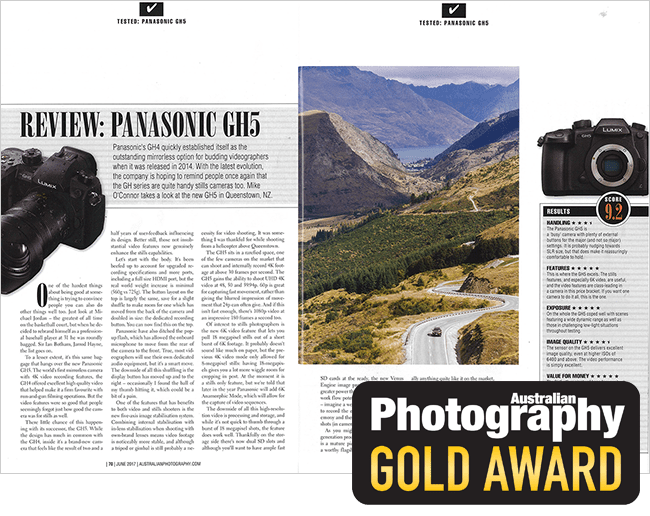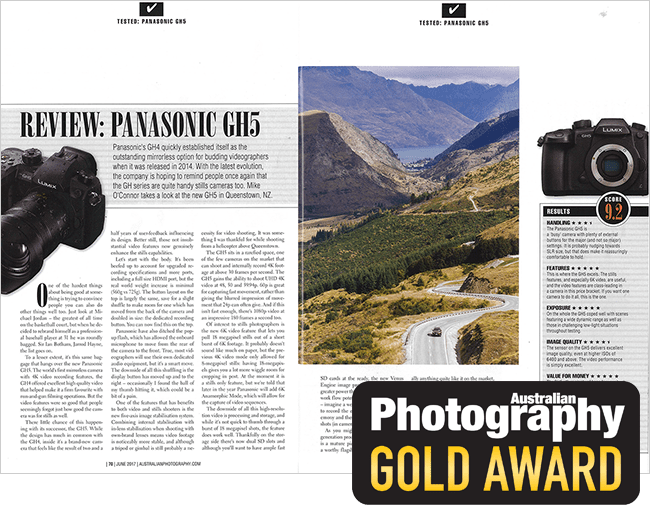 The LUMIX GH5 is our most impressive hybrid mirrorless camera, delivering the perfect balance of high quality stills and phenomenal video technology. It's a show-stopping camera and already reaping praise from the toughest critics. Now the GH5 can add a Gold Award from Australian Photography magazine to its trophy cabinet, following this outstanding hands-on review published after Mike O'Connor took it for a spin in gorgeous Queenstown, New Zealand.
"We loved the GH5. This is a product that speaks to a long and well-thought-out development process. The result is a camera that has great benefits to a broad variety of users. You won't be disappointed."
– Australian Photography, Gold Award
20MP Digital Live MOS Sensor
With a 20MP sensor, the GH5 camera delivers high-resolution images with new levels of detail, outstanding low-light performance and impressive dynamic range.
"On the whole the GH5 coped well with scenes featuring a wide dynamic range as well as those in challenging low-light situations throughout testing… The sensor on the GH5 delivers excellent image quality, even at higher ISO's of 6400 and above."
– Australian Photography, Gold Award
Broadcast grade 4K video recording
The GH5 offers unprecedented video performance, including the ability to record 4K 10bit 4:2:2 video with deep colour gradation straight to SD card.
"The GH5 sits in a rarefied space, one of the few cameras on the market that can shoot and internally record 4K footage at above 30 frames per second. The GH5 gains the ability to shoot UHD 4K video at 48, 50 and 59.94p. 60p is great for capturing fast movement, rather than giving the blurred impression of movement that 24p can often give. And if this isn't fast enough, there's 1080p video at an impressive 180 frames a second too."
– Australian Photography, Gold Award
Breakthrough 6K PHOTO mode
The worlds-first 6K PHOTO* mode lets you pull an 18MP still image out of ultra high-quality GH5 video footage. The end result is an image with nine times the detail of Full HD.
"The work flow potential of 6K video is huge– imagine a wedding photographer able to record the entire ring swapping ceremony and then cherry picking the best shots (in camera!) on the fly."
– Australian Photography, Gold Award
Powerful Dual I.S.2 (Image Stabiliser)
The GH5 camera integrates 5-Axis Dual I.S.2, combining body and lens stabilisers, for steady handheld stills and video shooting including all 4K video modes.
"One of the features that has benefits to both video and stills shooters is the new five-axis image stabilisation system. Combining internal stabilisation with in-lens stabilisation when shooting with own-brand lenses means video footage is noticeably more stable… something I was thankful for while shooting from a helicopter above Queenstown."
– Australian Photography, Gold Award
Built for pro photographers & videographers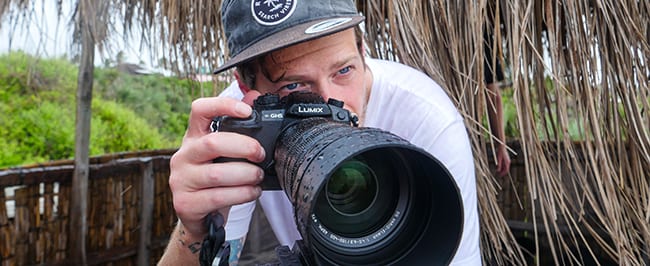 The rugged and reliable GH5 is built for professionals whose reputation rests on their ability to capture a once in a lifetime moment.
"As you might expect from a fifth-generation product, the Panasonic GH5 is a mature piece of kit and above all, a worthy flagship body. There's not really anything quite like it on the market, certainly for its price."
– Australian Photography, Gold Award
READ MORE: Australian Photography – Panasonic GH5 review by Mike O'Connor
GH5 LEICA Kit
GH5 PRO Kit
GH5 Body Only
*For a Digital Single Lens Mirrorless camera, as of 19 September, 2016 (Panasonic survey).