Griffin Hammond is a documentary filmmaker in New York City, covering politics for Bloomberg Television. He filmed his award-winning documentary Sriracha on the LUMIX GH3, and captured the drama of the U.S. presidential election on his LUMIX GH4. Griffin's work has been screened on ABC, CBS, NBC, CNN, MSNBC, Fox News, and Showtime.
Inspired by the beautiful ice blocks New York City bartenders use to create crystal clear cocktail ice cubes, Hammond used our new flagship LUMIX DC-GH5 mirrorless camera 4K video shooting to perfectly capture the gorgeous close-up details of carved ice. This story even features chisels and chainsaws with ice flakes spraying through the air!
4K 60P VIDEO "HAND CUT"
LUMIX GH5 Short Films by Griffin Hammond
STORY BEHIND
"Inspired by beautiful ice blocks used by New York City bartenders, I wanted to understand how crystal clear cocktail ice cubes are created. Shooting in 4K, the Panasonic GH5 perfectly captures the gorgeous close-up details of carved ice. But this story also features chisels and chainsaws—ice flakes spraying through the air."
– Griffin Hammond, Documentary Filmmaker
BEHIND-THE-SCENES
The Story of Hand Cut by Griffin Hammond, Documentary Filmmaker
"To capture all of this fine detail with minimal motion blur, I need a higher framerate. 60p recording captures twice as much information, reducing judder in my pans and jib shots. And with double the shutter speed, each frame is clearer. Whether played back at full speed or in slow motion, 4K 60p lets me immerse my audience in much more visual detail. The LUMIX GH5 is the perfect camera for this film."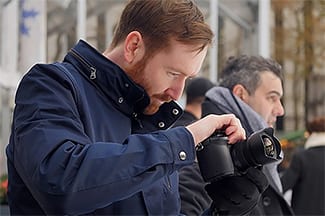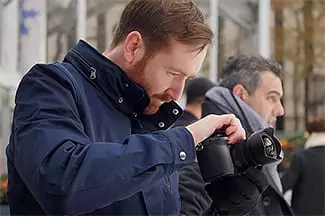 "Keeping all the great features I've relied on with my LUMIX GH4—like focus peaking and time lapse—the addition of in-body image stabilisation 5-axis Dual I.S. 2 to the LUMIX GH5 a game changer. My favourite prime lenses without O.I.S. no longer jitter in handheld shots!"
"I'm really pleased with the image detail off the camera, using the built-in colour profiles, especially in 4K 60p. And because I prefer wide shots, I love that 4K now captures the full sensor size. As a documentary filmmaker, I appreciate that the LUMIX GH5 retains an unobtrusive, compact size, while managing to add full-size HDMI and dual SD card slots."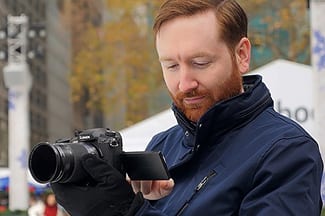 READ THE FULL FEATURE: LUMIX GH5 Impressions by Griffin Hammond
Griffin Hammond in Australia
Don't miss your chance to take part in very special LUMIX GH5 & filmmaking workshops in Sydney and Perth with award-winning filmmaker and photographer, Griffin Hammond. Click here to learn more.
About the LUMIX GH5

The new LUMIX DC-GH5 mirrorless camera truly sets the gold standard in professional 4K video shooting performance and hybrid photography, introducing a trio of world-firsts that make it an undisputed leader in its class. It is the first consumer digital camera to offer 4K 10-bit 4:2:2 25/30p video recording to SD Card*1; has the distinction of offering 4K quality video at 50/60 frames per second (fps)*2; and has evolved its original 4K Photo to the stunning 6K Photo*3.
GH5 LEICA Kit
GH5 PRO Kit
GH5 Body Only
Read more about the new LUMIX GH5 on Panasonic Australia Blog.
*1 4:2:0 8-bit in 4K 50p/60p on an SD Memory Card.
*2 For a Digital Single Lens Mirrorless camera as of 4 January, 2017.
*3 6K PHOTO' is a high speed burst shooting function that cuts a still image out of a 4:3 or 3:2 video footage with approx.18-megapixel (approx. 6000 x 3000 effective pixel count) that the 6K image manages.