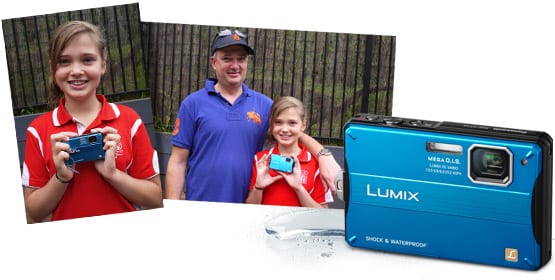 The search is over and we have found the ecstatic owner of the LUMIX FT10 caught by Adam Biro on October 15.  The family was tracked down through the company they rented their houseboat from, Luxury Afloat, which appeared in the last pictures taken on the camera. Emma Griffin, 12, has been reunited with her camera, which had around 750 images on it.  Emma and her family, from Avoca Beach NSW were on the Hawkesbury River in October when the camera fell off Emma's wrist while she was swimming.
Adam Biro, a glazier, snagged the Panasonic LUMIX DMC-FT10 tough digital camera at Cottage Rock in Cowan Creek while fishing near an inlet on the Hawkesbury River, Sydney on October 15 – seven days after the last image had been captured on the camera.
When Adam came to us asking for help to find the camera's owner, we knew the fastest way of getting the message out was using Panasonic's Facebook page, Twitter, YouTube, Flickr and blog. The SMH also published an article 'Lost Panasonic camera mystery solved' on their website click here to view.
Watch Adam's original video:
Finding the owners of the Lumix FT10 wouldn't have been possible without the help from our online community. Emma, Daniel and the Panasonic team are incredibly grateful to Adam and everyone who shared his YouTube video on Facebook and Twitter.
Reuniting Emma with her camera is an incredible story of a community banding together, a very honest man and a great deal of luck. To ensure we are able to reunite you with your favourite Panasonic products quickly and easily when lost, please make sure you register them online at MyPanasonic.com.au