Jessica's mission is to be the youngest person to ever sail solo, non-stop and unassisted around the world.
Jessica will be sailing a 34 foot Sparkman and Stevens yacht 23,000 nautical miles around the world, spending an estimated 230 days alone at sea.
Over the past 2 weeks our Technicians have met with Jessica (and her team) to train her on the various Panasonic products that she will be using to document her voyage and keep in touch with base camp. We were lucky enough to capture some exclusive footage of Jessica whilst she prepares for her voyage and what better place to share this with you than our Blog.
Also keep an eye out for future posts and exclusive updates via our Twitter and Facebook accounts over the next 8 months as we share Jessica's story with you throughout her voyage.
Sailing Route
Jessica's route will start from Sydney and will take her northeast across the equator to Washington Island in the North Pacific, around the notorious Cape Horn, below South Africa and the Cape of Good Hope, across the India Ocean and up the east coast back home in to Sydney Harbour.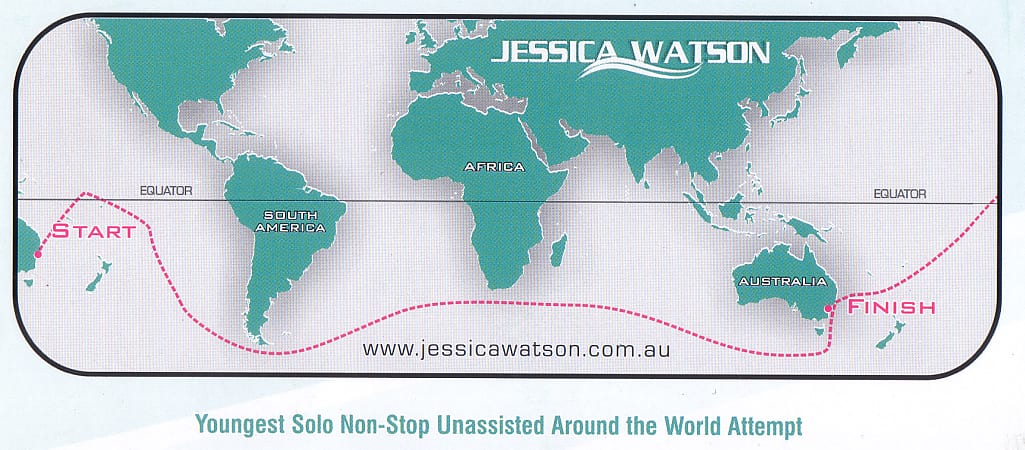 Catching up with Jessica
Recently we caught up with Jessica to see how she was going with her preparations for the big journey around the world. You can view the photo album on here on Flickr.
Panasonic MD Steve Rust sat down with Jessica to chat about her endeavor, see what they had to see in the video below.
httpv://www.youtube.com/watch?v=v6tz6pKTUdI
Panasonic gear Jessica will be taking along
2x DMC-FT1 Rugged LUMIX Cameras
1x DMC-FZ35 Camera with High Optical zoom, manual control and RAW capability
1x HDC-TM200-K Video Camera
4x CF-30 Toughbook Ruggedised Laptops
Jessica will be using the rugged Toughbook on her voyage to communicate with family and friends via email through the boat's broadband satellite system and to update her website.
Our Toughbooks have previously supported well-known Australians in their endeavours, including Rex Pemberton, the youngest Australian to summit Everest; and James Castrission and Justin Jones, the 'Crossing the Ditch' team who were the first to kayak across the Tasman Sea.
She will also upload and send video and photos of her voyage captured using the FT1's AVCHD video and the high optical zoom FZ35 with manual control for still images and RAW capabilities.
Panasonic will be giving updates through it's blog as well as Twitter and Facebook accounts, so be sure to join us to keep in touch with how Jessica is progressing.
From everyone at Panasonic; GOOD LUCK JESSICA 🙂
–UPDATE—
Jessica takes Panasonic on a tour of Ella's Pink Lady:
httpv://www.youtube.com/watch?v=k_cvVNVD79U