– This Promotion has ended –
Join the Blu-ray Prison Break Challenge to help hunt down and capture two escaped prisoners hiding amongst websites all over Australia. Deliver the fugitives back to Panasonic for your chance to win fantastic home entertainment prizes as bounty! It's all to celebrate the launch of Panasonic's Blu-ray Recorder range, which now allows HD quality images to escape your TV and be captured onto disc.
Join the manhunt
The first hunt starts 9am Tuesday 6th October – enjoy your long weekend! There will be a total of 8 manhunts, with 2 manhunts a week (Monday-Wednesday and Thursday-Sunday) over 4 consecutive weeks.
Clues to help find the fugitives will be released for each hunt via Panasonic's Twitter and Facebook accounts.
Follow the clues to locate the specific website where the two fugitives will be hiding and then click on them to capture. Prove your capture (see steps below) before the start of the next hunt and you'll be in the prize draw.

How it works:
Decode the clues to find the website where the fugitives are hiding (*hint* check banners)
Click on the hidden fugitives to reach the concealed capture page
Print out the captured fugitives from the capture page
Take a photo of yourself with the fugitives as proof you caught them
Post that photo on Panasonic's Facebook Page before the start of the next hunt and you're in the draw. Happy hunting!
The Hunt prizes
The winner of each of the 8 hunt prize draws will receive a Panasonic Blu-ray Recorder (DMR-BW850) valued at $1,979 RRP. Draws happen once a hunt has concluded and the winners will be announced the day after the draw via Panasonic's Facebook and Twitter pages.
The Grand prize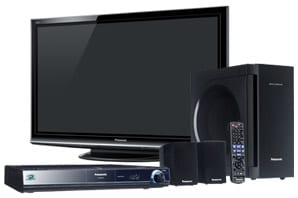 Each of the 8 manhunt 'capture pages' features a special code word. Once gathered together, these words form a question for the Grand Prize. Post your answer to the question on Panasonic's Facebook Page before the Blu-ray Prison Break competition closes and you could win a Panasonic Home Theatre System (SC-BT200) valued at RRP $1,099.00 and Full High Definition Plasma TV (TH-P42G10A) valued at RRP $2,299.00.
About Panasonic Blu-ray
With Panasonic Blu-ray products, consumers will experience incredible Full High Definition image and sound quality, and be able to enjoy additional movie and online content. Plus the Panasonic Blu-ray Disc Recorder range offers exclusive availability of High Definition recording, allowing you to record, share and archive High Definition content.
More about Panasonic Blu-ray
Competition Terms and Conditions
Click here for Terms and Conditions
Competition is now closed. List of winners:
Hunt 1: N. Geeves (VIC)
Hunt 2: J. Burke (VIC)
Hunt 3: B. Fishpool (SA)
Hunt 4: G. Zadro (QLD)
Hunt 5: B. Bilsborow (SA)
Hunt 6: K. Adams (NSW)
Hunt 7: M. Dulihanty (NSW)
Hunt 8: J. Cunningham (NSW)
Grand Prize: R. Lupton (VIC)