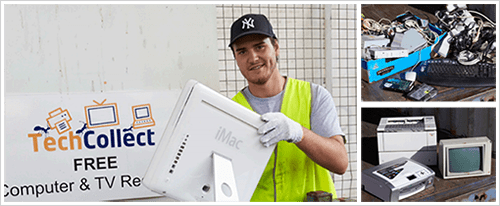 How it works: Households and businesses can drop off their end-of-life and unwanted computers, computer accessories and TVs at sites throughout Australia free of charge. Find your nearest TechCollect drop-off site here.
This time last year, Panasonic joined with the Australia and New Zealand Recycling Platform (ANZRP) to launch TechCollect, a nationwide recycling service for old computer and accessories, printers and TVs. Obviously we love technology just as much as the rest of the country but we wanted to help reduce the 106,000 tonnes of e-waste disposed of each year in Australia.
It has been a busy year for ANZRP TechCollect, with CEO Carmel Dollisson reporting that the not-for-profit "has made great strides in its vision to create a community that collects, processes and safely recycles electronic waste for responsible environmental outcomes." The total weight collected for the 2012/13 period 16,554 tonnes and ANZRP's ambition for the 2013/14 period is for the TechCollect brand to become synonymous with e-waste recycling in Australia.
With your help, by 2021 TechCollect could even be recycling 80% of our e-waste keeping it out of landfill here and overseas! The best part is it's really easy to recycle your old computers, printers and TVs and it's free. Find out more at http://techcollect.com.au/
MORE
Find your nearest TechCollect drop-off site here.
Find out what households and businesses can drop-off at a TechCollect drop-off site here.
Aussies help set new Guinness World Record for e-waste collection.
TechCollect launch sees e-waste recycled responsibly.
For information on recycling products not covered by the National Television & Recycling Scheme please visit:
Mobile Muster (official product stewardship program of Australia's mobile phone industry).
Cartridges 4 Planet Ark (for used printer cartridges).
Recycling Near You (This site contains information about the recycling and waste services offered by your council as well as local drop-off options for items including computers, batteries, printer cartridges, mobile phones and many more).