Two of the world's most anticipated sports competitions have put Brazil in the spotlight. We can't teach you samba, but we can certainly get you in the mood with this traditional Brazilian-Style Flan Microwave Recipe, a treat from Panasonic Brasil.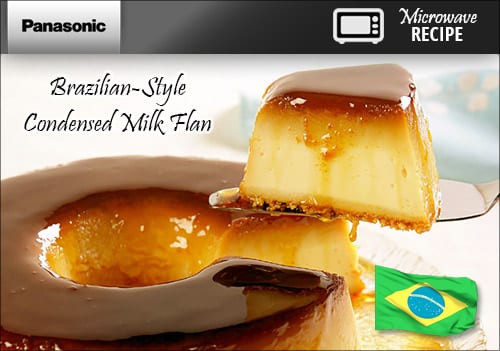 Brazilian-Style Flan
Ingredients
1 can sweetened condensed milk (not evaporated milk) – Nestle brand
1 1/2 can regular milk (use the can to measure)
4 eggs
10 table spoons sugar
8 table spoons water
Preparation
First, mix the condensed milk, milk and eggs until well blended (manually is fine).
Then put the sugar and water in a microwave-proof tube cake pan, stir it and microwave high for 5 minutes, until is golden. Pour the condensed milk mix into the caramelized pan and microwave high for another 8 to 10 minutes.
Click here to see more microwave recipes.